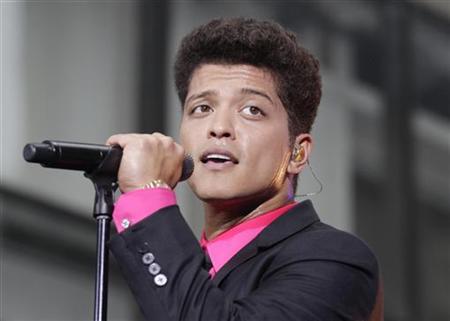 "It Will Rain" by Bruno Mars will be the first song from the upcoming soundtrack for "The Twilight Saga: Breaking Dawn – Part 1," the film's studio Summit Entertainment said on Thursday.
While the song itself has not yet been released, Mars is known for his fusion of pop, R&B, reggae and soul influences. Fans of Mars and the "Twilight" franchise will have to wait until September 27 to hear the song.
The cover artwork features a silhouette of a man featuring Mars' trademark quiff hairstyle, sitting in a chair with an umbrella, against a colorful blurred backdrop, with the song title scrawled boldly in black.
The announcement comes after a string of successes this year for singer/songwriter Mars, with Grammy wins and singles from his debut solo album "Doo-Wops and Hooligans" topping charts in the U.S. and internationally.
The single "It Will Rain" will be available worldwide on iTunes on September 27, and in the U.K. on October 31.
The full "Breaking Dawn – Part 1" soundtrack will be available on iTunes on November 8.
LOS ANGELES (Reuters) – (Reporting and Writing by Piya Sinha-Roy; Editing by Bob Tourtellotte)