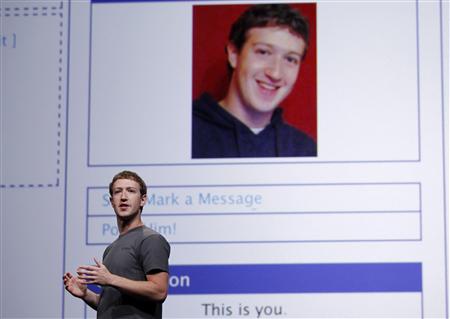 Facebook unveiled new ways for users to listen to music and watch TV, offering tie-ups with the likes of Spotify and Hulu, as it attempts to make media an integral part of its social networking service.The features, which Facebook unveiled at its annual f8 developers' conference in
San Francisco
on Thursday, will vastly expand the types of activities that users of the social networking service can notify their friends about, from the news articles they read to the title of each song they listen to throughout the day.
Facebook users will also be able to listen along to whatever song a friend is listening to, provided they both subscribe to the supported third-party streaming music services, such as Spotify.
The media push comes as Facebook faces fresh competition from Google, which in June launched a rival social networking service, Google+. In recent weeks, Facebook, which counts more than 750 million users, has rolled out a bevy of changes to its service.
"Facebook is positioning itself as not just your social graph online, but your life online," said Forrester Research analyst Sean Corcoran.
"These changes not only help trump rival Google but will open up new opportunities," he said. "But concerns around privacy and immaturity in how to do these things effectively will make it a slow go."
Dressed in a gray T-shirt, jeans and sneakers, Zuckerberg said the music companies partnering with Facebook, including Rhapsody and Turntable.fm, were reinventing the music industry and the business models that underlie the industry.
"They believe that the key to making the music business work isn't trying to block you from listening to songs you haven't bought," said Zuckerberg.
"It's trying to help you discover so many songs that you end up buying even more content than you ever would have otherwise," he said.
Joining Zuckerberg on stage was Netflix Chief Executive and Facebook board member Reed Hastings, who said he was excited to offer tighter integration with Facebook but did not give details.
The Washington Post Co. unveiled its Social Reader, which lets people read and share stories from the newspaper within Facebook.
For Facebook, a deeper integration of music, movies and other media into its service makes it more likely that users will spend more time on its site, enabling the company to generate more advertising dollars.
The company, which generated $1.6 billion in revenue in the first six months of 2011 according to a source familiar with the matter, is being closely watched by investors hoping for an initial public stock offering next year.
Facebook also introduced an overhaul of users' personal profiles on Thursday which arranges past photos and other information into a rich, magazine-like layout. Dubbed "Timeline," the new profile serves as a sort of diary of a person's life, organized by each year they've been on Facebook.
With Thursday's new features, Facebook users will have new ways to flag content beyond the now familiar "like" button which people click to endorse various items on the Web, from news articles to running shoes.
Software developers whose services connect with Facebook will be able to customize the types of notifications that are broadcast to a Facebook user's friends, with terms like "watched" a video, "read" an article or even "ate" a certain dish.
All that extra information could be a boon for advertisers.
"With Facebook now able to collect more data in terms of what people are watching, reading, running, doing, that's more metadata which is now going to feed into what brands and marketers target," said Hussein Fazal, the CEO of AdParlor, a firm that runs Facebook advertising campaigns for companies including Groupon.
"You're going to get more relevant advertising to the users, you're going to get higher click-through rates," said Fazal. "In the end that means more revenue and more ad dollars going to Facebook," he said.
SAN FRANCISCO (Reuters) – By Alexei Oreskovic(Reporting by Alexei Oreskovic and Jennifer Saba; Editing by Bob Burgdorfer)