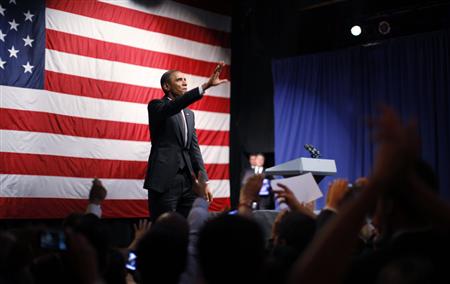 President
Barack Obama
topped up his re-election war chest with a string of successful
West Coast
fundraisers that ended Monday and showed soft poll numbers had not dented his ability to raise big money.Despite tough economic times, supporters shelled out for events from
Seattle
to
San Diego
that likely raised upward of $5 million in two days, paying up to the legal limit of $35,800 to hear Obama speak.
"What this election is about is everyone gets a fair share," he told a packed crowd of over 800 at the House of Blues in Los Angeles after a performance by the rapper B.o.B.
Obama's approval rating dropped over the summer as concern mounted the United States was headed into a second recession, but he has still been able to pull in plenty of fundraising dollars.
His campaign team also said it was close to racking up a million donors, recalling his massive grass-roots fundraising push that helped him win the White House in 2008.
Tour events have been crammed with guests, who applauded loud and long in response to his intensified criticism of Republicans and his oft-repeated call for Congress to pass his $447 billion jobs bill.
At one stop in Silicon Valley, the heart of America's high-tech industry, he called out Texas Governor Rick Perry by name, honing in for the first time on one of the front-runners to win the Republican Party nomination to face him next year.
In Seattle, he chided his political opponents for threatening a government shutdown over disaster funding.
Later Monday, he spoke before a group of Hollywood celebrities, including actor Danny DeVito, who took pictures of the president from his seat, producer/director Judd Apatow and actress Eva Longoria.
"I think Hollywood is very positive. I think they're very excited about what is going to happen next year," Jon Landau, who produced the film blockbusters "Avatar" and "Titanic," told reporters.
Obama's sharpened tone reflects a deliberate effort to take on Republicans and push back against criticism from his own base that he has been too conciliatory and not fought his opponents hard enough to protect Democratic Party values.
ON TRACK FOR A MILLION DONORS
Any sense of unease among supporters has not hurt fundraising, with a second-quarter total of $86 million on behalf of both his own campaign and that of the Democratic Party.
That was over four times more than the amount raised by Mitt Romney, the top Republican fundraiser who, together with Perry, is the front-runner to win his party's nomination.
Campaigns do not have to release their third-quarter fundraising totals until October 15. The president's campaign team aims to raise $55 million, a more modest total it says reflects the fact he was stuck in Washington for most of July by a bitter budget debate with Republicans.
With next year's election likely to be a close and expensive race, the support of wealthy donors who can cut a big check and round up their rich friends is vital.
But Obama's historic run to the White House in 2008 was also supported by hundreds of thousands of small donors. That army of givers can boost a campaign because such donors can give multiple times with no fear of hitting the legal $35,800 cap.
Obama's campaign team said he was on track to have drawn 1 million donors by October, hitting that goal in half the time it took in 2008.
LOS ANGELES (Reuters) -  By Alister Bull(Additional reporting by Kim Dixon in Washington; Editing by Anthony Boadle and Peter Cooney)