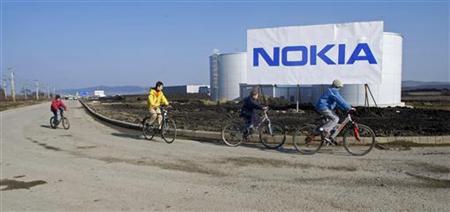 Nokia Oyj, the world's largest cellphone vendor by volume, is cutting 3,500 jobs in its second major restructuring in six months as it struggles with falling sales and profits.Chief executive
Stephen Elop
, who took over at Nokia a year ago, unveiled the plans which include a factory closure and a new executive chairman for telecom gear joint venture
Nokia Siemens Networks
, on Thursday.
The company said it would close the Cluj factory in Romania which opened just four years ago and manufactured more simple cellphone models, leading to 2,200 job losses.
The plant turnover was comparable to 1.3 percent of Romania's GDP last year, but Eastern European investment group Avaron said due to large component flows the value created at the plant was smaller, giving a rough estimate of around 0.25 percent of GDP.
Nokia said a further 1,300 jobs would be cut at its Location & Commerce business unit, which includes the world's largest digital mapping business Navteq.
Nokia said it was also evaluating the future of its plants in Finland, Mexico and Hungary and this would result in job cuts next year.
The latest redundancies come on top of cost cut plans set out in April which included laying off 4,000 staff. Thursday's cuts are included in Nokia's savings target of more than one billion euros, which was unveiled in July.
"This is very shocking. As if they had no policy at all in human resources, only lay-off talks rolling all the time. I wonder how people can work there, how people can focus at all," Pertti Porokari, the chairman of Finnish engineers' union (UIL), told Reuters.
"For sure the company is going through a massive reform, but it feels like the new direction is not quite under control."
Nokia has struggled this year with falling sales and profits after the group said in February it would switch to Microsoft Corp software for its smartphones, but the first of these models will reach the market only later this year.
"We are seeing solid progress against our strategy, and with these planned changes we will emerge as a more dynamic, nimble and efficient challenger," Elop, Nokia's first foreign chief executive, said in a statement.
Nokia's share price has halved since it announced the Microsoft deal on worries the company will lose so much market share before the new phones come out that it might never make up lost ground.
Nokia's quarterly phone sales to end-June dropped 20 percent at a time when market grew 10 percent, and its 15-year reign at the top of the smartphone market ended as both Apple and Samsung Electronics surpassed it.
"Now the volume has come down, clearly Nokia is looking for new saving targets," said analyst Jari Honko from Swedbank in Helsinki.
"I hope this extensive review does not mean that Nokia has lost so much scale that in-house production will no longer be competitive. It has been the most important strengths of Nokia," Honko said.
The shares were flat at 4.18 euros by 1100 GMT, in line with the sector.
Separately, Nokia supplier Digia said it had agreed to cut 170 jobs in its Finnish operations, and could cut up to 80 more as it revamped its business.
Nokia also said it and Siemens AG will both inject 500 million euros ($680 million) into their 50:50 telecom gear joint venture Nokia Siemens Networks.
Jesper Ovesen would take over as executive chairman of Nokia Siemens Networks, replacing former Nokia CEO Olli-Pekka Kallasvuo, Nokia said.
Ovesen, who has worked as chief financial officer at many top Danish firms helped to turn Lego around during his spell as CFO of the toy group in 2003-2007 and took telecoms operator TDC public late last year.
Siemens and Nokia would like to take Nokia Siemens Networks public at some point, but the company has struggled to report profits, battling against aggressive rivals Huawei and Ericsson.
Separately, Nokia Siemens said it has won an order from Bharti Airtel to upgrade, build and manage networks in seven African countries.
($1=0.735 Euros)
HELSINKI (Reuters) – By Tarmo Virki, European Technology Correspondent(Additional Reporting by Terhi Kinnunen and Jussi Rosendahl in Helsinki, Radu Marinas in Bucharest; Editing by David Holmes and Elaine Hardcastle)