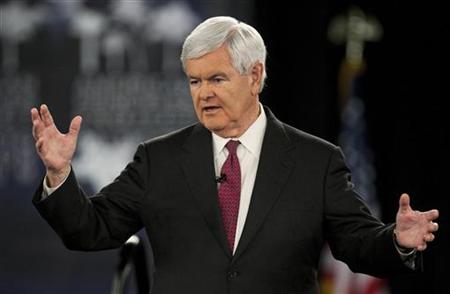 Republican presidential hopeful
Newt Gingrich
, looking to energize his 2012 campaign, produced a new version of the "Contract with
America
," the 1994 plan that gave Republicans congressional election wins.Gingrich laid out the "21st Century Contract with
America
" on Thursday. It is a broad economic plan that would offer Americans choices in how they buy healthcare and pay taxes.
His original contract helped Republicans win control of the U.S. House of Representatives and catapulted him into the speakership of the U.S. House of Representatives.
Gingrich is clearly hoping that lightning will strike twice and his new plan will jump start his candidacy, which has failed to take off.
Gingrich, known among Republicans as an ideas man and big thinker, trails Rick Perry and Mitt Romney in the polls in the race to decide the Republican presidential nominee in 2012, but he has been picking up some support lately.
His daughter brought a copy of the original "Contract with America." It appeared to have a water stain on the bottom, which she jokingly suggested was a champagne stain from celebrations after Republicans won the House in 1994.
The new "Contract" proposes that Americans be able to choose between two methods of paying taxes, either through the current income tax system or an optional flat tax.
CHOICES
He would let people pick between a tax credit to pay for health insurance or allow them to deduct the value of their insurance up to a point.
"I think that we are in the kind of trouble as a country that puts a premium on having solutions rather than slogans," Gingrich told reporters. "And I think this is going to be a unique election in which people really are worried and they really do want to know, 'What would you do?' and, 'How would you do it?' and, 'Why should I believe you?' And I think this is the beginning of laying that out."
Gingrich would also overhaul the Social Security retirement system by letting younger workers have the option to put some of their contributions into personal savings accounts.
His ideas also address increasing U.S. domestic energy production, controlling the U.S. border by January 1, 2014, and establishing English as the official U.S. government language.
A Fox News poll had Gingrich with 11 percent support among Republican voters on Thursday, trailing Romney, Perry and Herman Cain. Gingrich had been in single digits for months after his campaign melted down and key staffers resigned in protest at what they considered a lax attitude toward campaigning.
He is seen as unlikely to be among the main challengers to win the nomination to face President Barack Obama next year.
"The only role Newt can play going forward is to shape the debate," said Republican strategist Matt Mackowiak.
DES MOINES, Iowa (Reuters) – By Kay Henderson(Writing and additional reporting by Steve Holland in Washington; Editing by Jackie Frank and Cynthia Osterman)