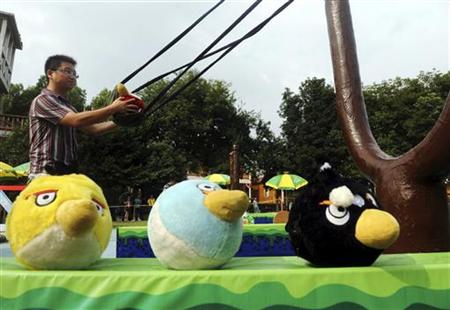 Mobile gaming firm Rovio said on Wednesday its hit game Angry Birds had reached a record 500 million downloads in less than two years since its launch.
"It's more than any game ever before," Rovio's marketing chief Peter Vesterbacka told a conference in Helsinki.
Unlike most mobile-game crazes, Angry Birds — in which players use a slingshot to attack pigs who steal the birds' eggs — has stayed at the top of the charts since it was launched for Apple's iPhone on Dec 11, 2009.
Vesterbacka said the company's next aim was to reach one billion fans globally, on devices including mobile phones and computers.
The gaming company is expanding the brand across traditional merchandising, to items such as toys and baby products, and is taking the birds to the big screen with film studios.
Earlier this year, Rovio raised $42 million from venture capital firms in an investment co-led by Accel Partners, which previously backed Facebook and Baidu, and Skype founder Niklas Zennstroem's venture capital firm Atomico Ventures.
Rovio was founded in 2003 after three students including Niklas Hed — CEO Mikael Hed's cousin and now Rovio's COO — won a game-development competition sponsored by Nokia Oyj and Hewlett-Packard CO. It changed its name from Relude in 2005.
HELSINKI (Reuters) – (Reporting By Tarmo Virki; Editing by Helen Massy-Beresford)