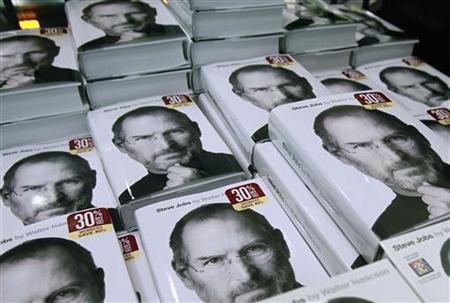 Walter Isaacson's biography of Apple Inc co-founder Steve Jobs leapt to the top of bestseller lists in its first week in book stores, flying off shelves to the tune of 379,000 copies, according to Nielsen's BookScan.
"Steve Jobs," which came out on October 24 from publisher Simon & Schuster, sold three times more copies than the next-bestselling book, John Grisham's "The Litigators."
In its first week alone the book became one of the year's 20 bestsellers.
It has been a year since any book has sold more copies in its first week. Both former President George W. Bush's autobiography, "Decision Points," and Jeff Kinney's "Diary of a Wimpy Kid: The Ugly Truth," sold more than 400,000 copies in their first week last November.
Jobs died on October 5 of pancreatic cancer, age 56. The publication of Isaacson' book, which was written with Jobs' cooperation, was moved up from the original 2012 date.
The 571-page volume was released on Apple's iBooks online store and Amazon's Kindle the day before it hit stores. Amazon later said it expected the book to be its top seller of the year. Sony has already picked up film rights to the book.
NEW YORK (Reuters) – (Reporting by Chris Michaud; editing by Bob Tourtellotte)