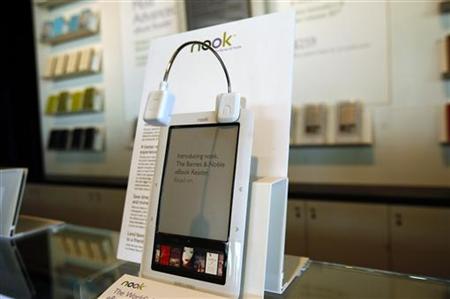 Barnes & Noble Inc
will introduce on Monday what analysts and the blogosphere predict will be improved, and in some cases, cheaper versions of its
Nook devices
to compete for holiday tablet sales.The largest U.S. bookstore chain's
Nook
has been a hit since its launch in 2009, but the retailer is under pressure from Amazon.com Inc, which in September introduced the
Kindle Fire
, its first tablet, to challenge the tablet-like
Nook
Color and slashed the price on its basic
Kindle
.
Technology blog Engadget claimed in a post on Thursday to know that Barnes & Noble would unveil its first tablet, for $249 at the launch in New York. It earlier said, citing leaked presentation slides, that Barnes & Noble would lower the price on its touchscreen e-reader, launched in May, to $99 from $139, matching that of the Kindle Touch.
A Barnes & Noble spokeswoman declined to comment.
Whatever the company presents on Monday, analysts said Barnes & Noble would need to show a new product or at least a significant upgrade with strong new features to keep Barnes & Noble competitive, justify any higher prices and win customers.
"You lock them into the Nook platform and promise them that new devices are also going to be coming out," said Forrester Research analyst James McQuivey.
Barnes & Noble has faced years of shrinking book sales, so it has invested tens of millions of dollars to develop the Nook to reinvent itself as readers move to digital formats. It claims to now have about a quarter of the digital books market.
Despite having modest financial means compared with Amazon, its Nook Color beat Kindle Fire to the market by a year, and its touchscreen reader was launched in May, months ahead of Amazon's.
Amazon's aggressive pricing will put pressure on Barnes & Noble to follow suit on the devices it does not upgrade.
"Amazon is in land grab mode," said Morningstar analyst Peter Wahlstrom. "Barnes & Noble doesn't want to be seen as a low-cost leader. They want to be viewed as a premium product."

(Reuters) – By Phil Wahba(Reporting by Phil Wahba; editing by Gunna Dickson)