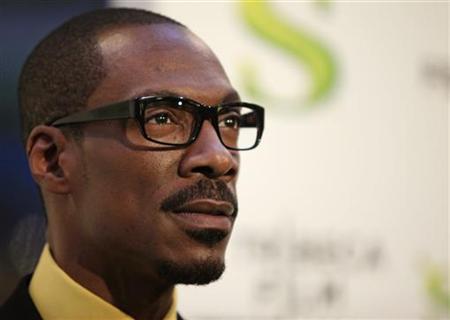 In a day of drama befitting Hollywood, Oscar organizers on Wednesday said comedian
Eddie Murphy
was bowing out as host of the world's top film honors and producer
Brian Grazer
was stepping in to run the show.The dual announcements by the
Academy of Motion Picture Arts and Sciences
follows Tuesday's departure of producer
Brett Ratner
who earned the wrath of academy members after using a gay slur at a weekend screening of his new movie, "Tower Heist," which co-starred Murphy.
Ratner had lured the "Beverly Hills Cop" funnyman into the coveted job as Oscar host and after he quit, Murphy tendered his resignation on Wednesday. It appeared to be the first time a host quit the show that annually is among the most-watched programs on U.S. TV and is seen by tens of millions worldwide.
Murphy's departure paved the way for the academy to bring on "A Beautiful Mind" producer Grazer to guide the show from concept to curtain this coming February. It will be up to Grazer to pick a new host for the awards that honor the top films, performances and other movie work of 2011.
"Brian Grazer is a renowned filmmaker who over the past 25 years has produced a diverse and extraordinary body of work," academy president Tom Sherak, said in a statement.
Earlier in the day, on announcing Murphy's departure, Sherak had said, "I appreciate how Eddie feels about losing his creative partner, Brett Ratner, and we all wish him well."
On Tuesday Ratner resigned from the high-profile job in the face of an industry firestorm over his answer to a question at a "Tower Heist" screening about using rehearsals ahead of the film shoot. Ratner replied, "rehearsing is for fags."
Gay rights groups and some members of the academy took issue with his use of the word that is largely viewed as a slur, and Ratner later apologized publicly. But adding fuel to the fire was an interview he gave on the Howard Stern radio show about his sex life. The damage was done.
In his own statement, Murphy seemed almost apologetic for bowing out of the show.
"First and foremost, I want to say that I completely understand and support each party's decision with regard to a change of producers for this year's Academy Awards ceremony," he said.
"I was truly looking forward to being a part of the show that our production team and writers were just starting to develop, but I'm sure that the new production team and host will do an equally great job."
Fortunately for Oscar organizers, the show does not take place until the final Sunday of February, 2012, giving the group plenty of time to put on a show.
LOS ANGELES (Reuters) – By Bob Tourtellotte(Editing by Chris Michaud and Jill Serjeant)