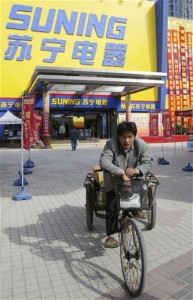 China's Suning Appliance Co Ltd, the country's biggest electronics retailer has signed an agreement with IBM to build a multi-billion e-commerce platform, both companies said in a statement on Friday.
The platform will be supported by cloud technology, logistics and supply chain management and both companies will pool their human resources to build it.
As part of the tie-up, IBM will build a global e-commerce center in Nanjing and will help Suning expand it to hire around 715,000 employees in three to five years.
"Suning, a very clear strategy for the next decade, the important point is to increase the technological capabilities of Suning," said Zhang Jindong, Suning's chairman in a statement.
China's e-commerce industry is booming. Taobao Mall, the dominant player in the market, had 32.8 percent of China's 54.2 billion yuan B2C online marketplace in the second-quarter, according to data from Analysys International. 360buy, Taobao Mall's nearest rival, had 12.4 percent of the market.
SHANGHAI (Reuters) – (Reporting by Melanie Lee; Editing by Jacqueline Wong)