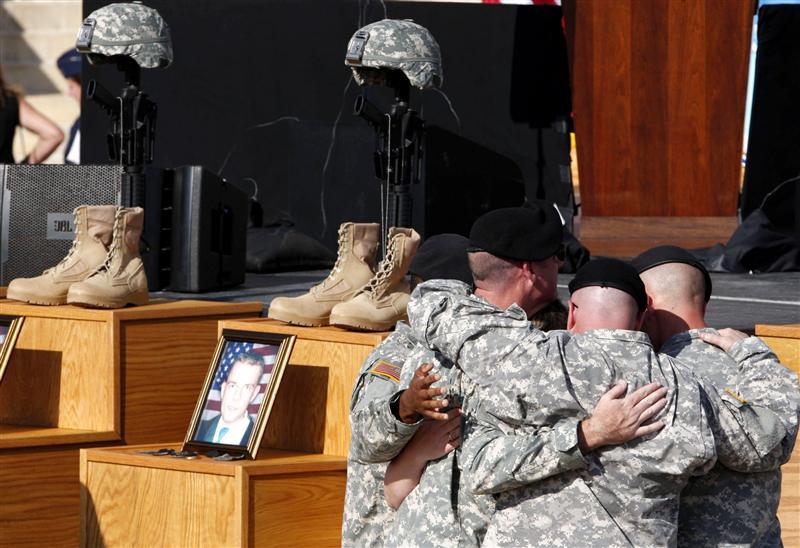 Dozens of relatives of people killed in a November 2009 shooting at
Fort Hood
— as well as some of the wounded — are filing administrative claims against the
Army
, seeking more than $750 million in total damages.The lawyer representing the more than 80 claimants said on Thursday that the
Army
"acted in total disregard" for the safety of soldiers and civilian employees by allowing Major
Nidal Hasan
— an
Army
psychiatrist charged in the killings — to serve on active duty.
"They enabled him, they put him in a position to commit fratricide, and allowed him to commit the only deadly terror attack on U.S. soil since 9/11, and they knew all about it," the lawyer, Neil M. Sher of New York City, told Reuters.
Thirteen people died and 31 were wounded at the massive Texas Army post in the worst shooting ever at a U.S. military facility.
"The Army knew all about his beliefs, his radicalization, and, even knowing that, his superiors did absolutely nothing except promote him," Sher said. "That is inexcusable."
A Fort Hood spokesman said: "We are aware of the cases but are not able to speak to the specifics. The cases will be taken seriously and we will follow due process."
Among the claimants are family members of eight soldiers killed in the attack, and nine soldiers and one civilian who were wounded.
Those participating include Kimberly Munley, the civilian police officer credited with firing the shots that stopped Hasan, leaving him paralyzed from the waist down.
"I brought this claim because I strongly believe this tragedy was totally preventable, and that the Army swept under the rug what they knew about Hasan," Munley said in a statement.
Sher said the claims, which demand varying amounts of compensation, were filed under the Federal Tort Claims Act. The government has six months to respond and act, he said. If the Army denies the claims, Sher said he would be allowed to sue the government in federal court.
Hasan, who uses a wheelchair because of the injuries he suffered the day of the shooting, faces the death penalty if convicted at a court martial set to begin at Fort Hood in March.
SAN ANTONIO, Texas (Reuters) – By Jim Forsyth(Additional reporting by Chris Baltimore; Editing by Corrie MacLaggan and Jerry Norton)