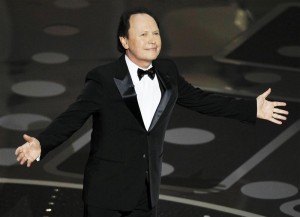 Oscar organizers on Thursday brought back funnyman
Billy Crystal
to host the film awards after recent days of turmoil that led to the departure of one producer and his handpicked emcee
Eddie Murphy
.Crystal, who has hosted the widely-watched Hollywood telecast eight times previously, announced his new job on Twitter with a post: "Am doing the Oscars so the young woman in the pharmacy will stop asking my name when I pick up prescriptions. Looking forward to the show."
Tom Sherak, president of The Academy of Motion Picture Arts and Sciences that puts on the Oscars, called Crystal "a comic legend and Oscar icon."
"I'm thrilled to welcome Billy back to the Oscar stage," Sherak said.
The announcement follows days of drama at the academy after producer Brett Ratner last week used the gay slur "fags" at a screening of his movie "Tower Heist," which stars Murphy.
His use of the word raised howls from gay rights groups and academy members. He apologized publicly on Monday, but his contrition failed to stem the firestorm. He resigned one day later. Murphy, who had been lured by Ratner to host the Oscar telecast, followed his boss out the door on Wednesday.
The academy responded by hiring "A Beautiful Mind" producer and Hollywood veteran Brian Grazer to replace Ratner, leaving the choice of a host to him.
"Like so many others, I've been eager to see Billy host again. It's very gratifying that he agreed to do it with (co-producer Don Mischer) and me at the helm."
A FAVORITE RETURNS
Crystal, 63, first hosted the show in 1990 when "Driving Miss Daisy" was named the year's best movie, and the awards program was still easily topping 40 million viewers, making it the second-most watched U.S. TV program annually behind professional football's Super Bowl.
The comedian went on to host three more consecutive years, dropped out for two, then returned in 1997 and 1998 when "Titanic" was voted by academy members as the top movie and 57 million people tuned in. He last hosted the show in 2004.
The comedian has been among Oscar watchers' favorite hosts over the years and it seems like every year when hosts disappoint, as did James Franco last year, there have been calls for Crystal to return.
But even before Crystal posted his tweet — as speculation mounted that he would return — some Hollywood watchers were questioning whether he could connect with younger movie fans and TV watchers who, in recent years, have had more entertainment options than ever.
Viewership of the Oscar telecast has fallen below the 40 million mark in five of the past six years, rising above it in 2010 when 3D action-adventure "Avatar" was among the most nominated movies. When "The Lord of the Rings: The Return of the King won best movie, the audience topped 43 million.
But Sherak does not think Crystal is too old to host. When asked that question by showbusiness website TheWrap, he answered "No. Bob Hope did the Oscars in his sixties."
In fact, Hope was the quintessential Oscar host for 19 ceremonies, and an entertainer who, like Crystal, could not only tell jokes, but could sing and put on a top variety act.
The upcoming Oscars for the movies of 2011 will take place on February 26, 2012.
LOS ANGELES (Reuters) – By Bob Tourtellotte(Editing by Jill Serjeant)