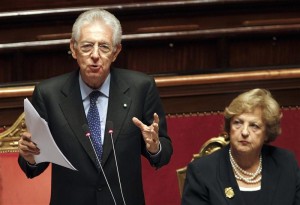 New Prime Minister
Mario Monti
said on Thursday
Italy
faced a major emergency as he promised rigor and fairness in sweeping reforms to dig the country out of a major financial crisis.The former European Commissioner, sworn in on Wednesday, was making his first address to parliament, before a confidence vote in the upper house on Thursday night.
Monti, rushing to end a collapse in market confidence that has pushed Italy's borrowing costs to critical levels, said he would consider additional measures after fully implementing promises made to the European Union but never carried through by his predecessor, Silvio Berlusconi.
He will target widespread tax evasion, sub-standard education and training and Italy's creaking welfare system as well as reforming the labor market in what are expected to be painful and unpopular austerity measures to end a crisis that has put the euro zone's third largest economy at the center of its expanding debt crisis.
In a 45-minute address, he said the key goals of his technocrat government would be to improve public services and help women and young people to get jobs.
Making clear what he would target to cut Italy's huge public debt and stimulate growth, Monti said Italy had a higher average retirement age than in France and Germany and that chronic tax evasion must be fought while reducing the overall tax burden.
He would also set out a schedule for the sale of public assets.
In another shot at a major problem with the Italian economy, Monti said the use of cash should be reduced to cut an underground economy that accounts for nearly 20 percent of GDP.
He also promised to reduce the cost of Italy's political system and cosseted politicians, which has caused increasing public outrage under the outgoing government of Berlusconi.
SECOND VOTE
Monti will see a second confidence vote in the lower house on Friday.
Monti was comforted in his daunting task on Thursday by an opinion poll that said an overwhelming majority of Italians supported him.
The poll taken by the respected Piepoli Institute for La Stampa newspaper just before he officially took office said 73 percent of those asked believed he would be able to form a government capable of leading an extraordinary effort to fix Italy's problems.
Even 60 percent of voters from the center-right, the grouping that backed the last government, said they had faith in Monti.
But there were early signals of the problems facing the new prime minister, who has taken the economy portfolio himself.
Berlusconi, after a few days of silence following his ignominious exit on Saturday, told deputies from his PDL party that the new unelected government was imposed on the country by President Giorgio Napolitano.
He said it would last only as long as the PDL wanted, Italian news agencies reported.
Monti will need strong parliamentary support for radical reforms that has been promised by most of the parties, but could evaporate as the measures become more and more unpopular, analysts say.
There was also opposition on the streets where thousands of people protested in several cities against what they called a "bankers' government." There were clashes with police in the business capital of Milan and in Turin.
With the euro zone debt crisis spreading wider by the day, Monti's policies are unlikely to be enough on their own to rebuild shattered market confidence.
But they will be vital to restoring credibility with international partners who had long lost patience with the repeatedly unfulfilled promises of Monti's flamboyant predecessor Berlusconi.
Italy's welfare system allows many Italians to claim a pension before the standard retirement age of 65 and current labor market rules protect some workers but discourage job creation.
The task Monti faces was underlined by the continued surge in Italian bond yields.
Yields on 10-year bonds were over 7 percent, near the levels that forced Greece and Ireland to seek an international bailout, which would overwhelm the euro zone's current financial defenses if similar help was needed by Italy.
The appointment of Monti, a sober and reserved economist and tough negotiator with a decade of experience as European Commissioner, was greeted with palpable relief by foreign leaders exasperated by the scandal-plagued Berlusconi.
The growing threat that Italy's stagnant economy will slip into recession next year will make it increasingly difficult to keep control of its huge public debt, which amounts to 120 percent of gross domestic product, the second highest in the euro zone behind Greece.

ROME (Reuters) – By James Mackenzie and Gavin Jones(Writing by Barry Moody, additional reporting by Steve Scherer)