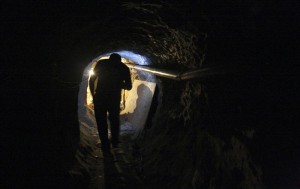 Police have discovered a "major cross-border drug tunnel" running to
California
from
Mexico
, and seized more than 17 tons (12,700 kilograms) of marijuana, U.S. and Mexican authorities said on Wednesday.The tunnel measuring around 400 yards links warehouses in an industrial park south of San Diego and the Mexican border city of
Tijuana
, the U.S. Immigration and Customs Enforcement agency said.
U.S. federal agents made the discovery after police stopped a small cargo truck seen leaving a nondescript white warehouse building near the Otay Mesa port of entry on Tuesday afternoon, and arrested two men, ICE said.
A subsequent search of the warehouse found the entrance of the tunnel in the floor. It plunged more than 20 feet to the bottom of a shaft, meeting a passageway measuring approximately 4 feet by 3 feet, with structural supports, electricity and ventilation.
Agents with the San Diego Tunnel Task Force retrieved three tons of marijuana from the van. A subsequent search of the warehouse recovered an additional 6.5 tons of the drug. Mexican authorities said they found almost 8 tons of marijuana on the south side.
Tijuana is the principal gateway for tons of drugs entering California from Mexico. Last year, authorities uncovered two large tunnels linking the gritty industrial city with the strip flanking the border south of San Diego.
Measuring around 2,000 feet in length, they were equipped with rail systems, lighting and ventilation, and each discovery yielded multiple tons of marijuana.
'STOP AT NOTHING'
"The fact that this is the third sophisticated cross border tunnel found within a year's time demonstrates the cartels will stop at nothing to smuggle their drugs into the United States," said William R. Sherman, acting special agent in charge for the U.S. Drug Enforcement Administration in San Diego.
"The seizure of marijuana coupled with the loss of yet another tunnel will deal a heavy blow to those responsible for constructing this tunnel," he added.
Evidence found inside the warehouse led investigators to believe the tunnel was only recently completed.
Mexican General Gilberto Landeros said many packets of the seized drugs were marked with a "Captain America" logo. Landeros said the tunnel was operated by the powerful Sinaloa cartel, headed by Mexico's most wanted man, Joaquin "Shorty" Guzman.
Mexico is in the grip of brutal drug cartel violence that has claimed more than 42,000 lives since President Felipe Calderon took office five years ago and sent the military to crush the powerful gangs.
The cartels have excavated scores of tunnels under the U.S.-Mexico border in recent years in a bid to beat ramped-up security at ports of entry and the rugged spaces in between. Nearly all of them linked cities on either side of Mexico's border with California and Arizona.
Authorities on Wednesday also reported the discovery of a much smaller drug tunnel running under the border to Arizona from Mexico's northern Sonora state.
That tunnel stretched for 70 feet from a drain in Nogales, Mexico, to an area beneath the porch of a house in the namesake city in Arizona, ICE said. Authorities also retrieved a number of excavating tools.
SAN DIEGO (Reuters) – By Marty Graham(Additional reporting by Lizbeth Diaz in Tijuana; Writing by Tim Gaynor; Editing by Greg McCune and Jerry Norton)