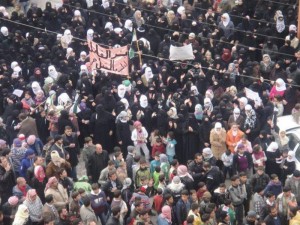 World powers will do as much as they can to turn up the heat on the
Syrian government
, British Foreign Secretary
William Hague
said on Monday, calling President
Bashar al-Assad
's crackdown on eight months of protests "appalling and unacceptable."Hague was speaking before a meeting in
London
with representatives of Syrian opposition groups, in an intensification of British contacts with Assad's opponents.
"We will increase the pressure on the Assad regime," he said, adding that he had spoken to the Arab League after Assad ignored its Saturday deadline to pull the military out of urban centers, free political prisoners and start a dialogue.
The Arab League has rejected a request from Damascus for amendments to a 500-strong mission to monitor Syrian implementation of an Arab peace plan.
Assad said in an interview published on Sunday that he would not bow to international pressure to stop the crackdown on the protests against his rule in which the United Nations says 3,500 people have been killed.
On Monday activists said Syrian forces killed two youths when they stormed a neighborhood in the city of Homs looking for a football star who has been leading street protests against Assad.
The state news agency said security forces killed four "terrorists" in Homs, including one of the most wanted men in the city. It also said an ambulance driver and his colleague were wounded when an "armed terrorist group" fired at them.
Syrian authorities have barred most independent journalists from entering the country during the revolt, making it difficult to verify accounts from activists and officials.
"The behavior of that regime is appalling and unacceptable and of course we will do what we can to support democracy in Syria in the future," Hague said.
He said international pressure had already been ratcheted up on Syria, pointing to European Union sanctions on Syria's oil exports. "We are working this week on a further round of sanctions which I hope we can agree next week," Hague added.
On top of the U.S. and European sanctions, Syria has alienated former ally Turkey and — in a dramatic deepening of its regional isolation — been suspended by the Arab League and threatened with Arab sanctions.
But international consensus over Syria has proved elusive.
Russia, which joined China last month in vetoing a Western-drafted U.N. Security Council resolution condemning Assad's crackdown, accused Western nations of undermining the chances of a peaceful resolution in Syria.
Foreign Minister Sergei Lavrov said the West was urging Assad's opponents not to seek compromise.
"We see a situation in which the Arab League is calling for an end to violence and the start of talks, while absolutely contradictory calls are coming from Western capitals and the capitals of some regional countries," he said.
Those nations, which Lavrov did not name, are "directly recommending that the opposition not enter dialogue with the Assad regime," he said, according to Interfax. "This is like a political provocation on an international scale."
ATTACK ON BUS
On Monday Turkish media also said two Turkish citizens were wounded when gunmen opened fire on a convoy of buses transporting pilgrims in northern Syria. Passengers told private news agency Dogan that they were told to get off the bus by eight uniformed Syrian soldiers at checkpoint.
Alongside the mainly peaceful street protests against Assad, army deserters have launched a series of attacks against forces loyal to the president.
Within hours of Assad ignoring Saturday's Arab League deadline, residents said two rocket-propelled grenades hit a major ruling party building in Damascus, the first such reported attack by insurgents inside the capital.
A statement by the Syrian Free Army, comprising army defectors and based in neighboring Turkey, initially said it carried out the attack but later withdrew its claim.
Syrian Foreign Minister Walid al-Moualem denied any attack had taken place. But a witness said security police blocked off the square where the building was located and reported seeing smoke rising from it and fire trucks in the area.
It was the second reported hit on a high-profile target in a week, underscoring a growing challenge to Assad — who blames "armed terrorists" for the unrest in which authorities say at least 1,100 soldiers and police have been killed.
In an interview with the British Sunday Times newspaper, Assad said he had no choice but to pursue the crackdown on unrest because his foes were armed.
"The conflict will continue and the pressure to subjugate Syria will continue. Syria will not bow down," he said.
Syria's main opposition group, the Syrian National Council, said that in the event of Assad's overthrow, it envisaged a transitional period lasting up to 18 months for a new constitution to be agreed and a parliamentary election to be held.
But some prominent Assad opponents said more work was needed on uniting the opposition to bring about his downfall.
Hague said his meeting with the opposition did not mean Britain was about to offer them formal recognition, "partly because there are differing groups."
"There isn't a single national council as there was in Libya … and the international community has not yet reached that point."
LONDON (Reuters) – By Stefano Ambrogi(Additional reporting by Steve Gutterman in Moscow, Khaled Yacoub Oweis in Amman, Jonathon Burch in Ankara; Writing by Dominic Evans)