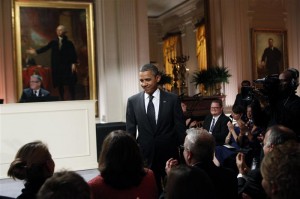 President
Barack Obama
will challenge the
Congress
to preserve an expiring payroll tax cut on Tuesday as he travels to
New Hampshire
to seize the initiative in the wake of a collapsed effort to reduce the nation's budget deficit.With the wreckage of a deficit-cutting effort by a bipartisan congressional committee still smoldering, politicians are scrambling to limit the damage.
Investors worry that the next few months could provide more evidence that Republicans and Democrats are too divided to help the sluggish economy and rein in the ballooning national debt.
Obama's Democrats aim to extend a tax break for workers and other economy-boosting measures due to expire at the end of the year. Democrats had hoped to roll those elements into any deal that would have emerged from the 12-member congressional "super committee."
With the collapse of the panel, Republicans and Democrats will be less inclined to hammer out difficult compromises on taxes and spending as they turn their attention to the November 2012 elections.
Obama plans to speak at a high school in Manchester, the largest city in a state that holds an outsize influence in the elections due to its early January primary contest.
Analysts warn that economic growth could slow by up to 1.5 percentage points in 2012 if the tax cut and enhanced jobless benefits are allowed to lapse.
Obama will meet with a local family to highlight the cost of allowing the tax cuts to lapse. The White House estimates that a typical family earning $50,000 would see its taxes rise by $1,000 if Congress fails to act.
'REAL MESS'
Republicans have not ruled out extending the tax cut and jobless benefits, but they are likely to insist on additional spending cuts to offset their $168 billion cost.
It will be a "real mess" trying to pass those provisions now that the committee has failed to reach a deal, Republican Senator Jeff Sessions told Reuters.
"We may not be able to continue them at the rate they are or may not be able to continue them at all," Sessions said in a telephone interview.
Meanwhile, Republicans are scrambling to shield the military from automatic cuts that are due to kick in 2013 after the committee failed to trim U.S. budget deficits by at least trillion over 10 years.
One Republican defense hawk, House of Representatives Armed Services Committee Chairman Buck McKeon, announced his intention to undo the military cuts even before the deficit committee admitted defeat.
Obama has vowed to veto such a move, but he faces a concerted lobbying effort by his own defense secretary, Leon Panetta, to preserve the Pentagon's budget.
Credit-rating agencies, already dismayed by Washington's inability to tackle the country's fiscal woes, could downgrade U.S. debt if the cuts are rolled back.
"It would take a lot of audacity to get out of the spending cuts because it would trigger another review by the ratings agencies and Congress doesn't want to have that on their hands," said Gennadiy Goldberg, a fixed-income analyst with 4Cast Inc.

WASHINGTON (Reuters) -  By Andy Sullivan and Alister Bull(Additional reporting by Richard Cowan in Washington and Emily Flitter in New York; editing by Christopher Wilson)