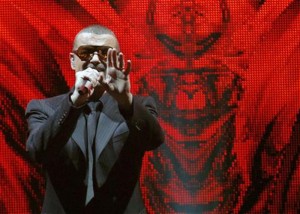 British singer George Michael's health is improving, doctors treating him in Vienna for pneumonia said in a statement Wednesday.
The 48-year-old former Wham! frontman was Hospitalized in the Austrian capital and diagnosed with severe pneumonia, forcing him to cancel the remainder of his European tour.
"The latest development in Mr. Michael's case — which has evolved from a severe pneumococcal infection — necessitated intensive care due to its severity and extension," said professors Gottfried Locker and Christoph Zielinski.
"We are happy to announce that Mr. Michael is improving steadily with an impressive regression of pneumonic symptoms and follows a steady rate of improvement as hoped.
"As we said previously, complete rest and peace and quiet are mandatory."
The doctors also appeared to address speculation in the British tabloid press that Michael was suffering further, potentially serious health complications and that he was receiving state-of-the-art treatment during his stay at the Vienna General Hospital.
"There are no other health issues with regards to the patient other than the underlying pneumonic disorder, and no further measures had to be taken," they said.
"Michael is receiving precisely the same treatment as any ordinary patient in Austria would receive at the hospital for this disease."
The Grammy award-winning singer found fame in the 1980s with Wham! before going on to pursue a successful solo career. He has sold an estimated 100 million records and has a personal fortune estimated at 90 million pounds ($140 million).
LONDON (Reuters) – (Reporting by Mike Collett-White, editing by Paul Casciato)