Johannesburg, South Africa – December 5th, 2011 – Mr. Gay World (MGW) 2012 is set to take place in the dynamic city of Johannesburg, South Africa, April 4-8, 2012 with different events over 4 days culminating in the Grand Finale on Sunday, 8 April 2012 at 8 pm at The Lyric Theatre, Gold Reef City, Johannesburg.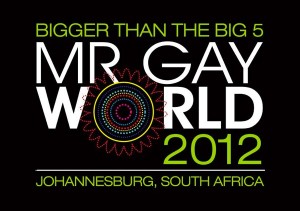 President of MGW, Eric Butter said, "We are so excited to take our Big Five continents to Africa to experience the 'Rainbow Nation' for our fourth annual competition. The producers of Mr. Gay South Africa have produced excellent quality events and we are so looking forward to the production and unique African experience they are planning for the international delegation."
Mr Gay World is an annual contest for gay men, seeking to establish ambassadors for LGBTI (gay) and human rights, with winners of national contests competing as delegates in a variety of categories including leadership, sports, swimwear modeling and knowledge of LGBTI world affairs. This competition is one of the most publicized gay contest in the world.
The current Mr Gay World 2011 titleholder is Francois Nel from Pretoria, South Africa with South Africa winning a record second time in Manila. Francois was crowned in the Philippines on March 13,2011. The previous South African winner in 2010 was Charl van den Berg, winning in Oslo, Norway. In 2009, the winner was Max Krzyzanowski from Ireland who won in Whistler, Canada.
The mission of Mr. Gay World (MGW) is to advance national and international gay rights through education and public performance.  MGW creates authentic leaders who will take responsibility, not only in his own community but on a global stage, speaking out for equal rights by inspiring those around him.  MGW is a genuine and positive role model that will champion equality and diversity in the media both gay and mainstream.
For more information on Mr. Gay World please visit mrgayworld.org
Tickets range from R100 (US$13*) for students, pensioners and the underprivileged to an average of R360 (US$45*) per person for stalls. VIPs are on the balcony, where seats start at R500 (US$63*) to R700 (US$88*) for the best seats in the house in row AA on the balcony (only 50 available).
Special Note:  Save R50 (US$6*) OFF ON BLOCK BOOKINGS FOR 10 OR MORE OR IF YOU PRE-ORDER TICKETS BEFORE 31 DEC 2011.  Discount applies to regular & VIP seats only.
TICKETS AT COMPUTICKET OR ANY CHECKERS STORE OR ONLINE HERE:
http://online.computicket.com/web/event/mr_gay_world_2012_grand_finale/477720853/referer:-highlights-index-2-0-2012_04_08-grid
For travel packages, see here: http://www.mrgayworld.org/index.php/component/content/article/40-news-front-page/294-mrgayworld2012packages
*US exchange based on approx. 8 South African Rand to one US Dollar, subject to international currency exchange rate at time of posting, subject to change without notice.
Source: News Release