An
Arizona
sheriff and his deputies violated U.S. civil rights laws by engaging in racial profiling of Latinos and making unlawful arrests in their bid to crack down on illegal immigrants, the
U.S. Justice Department
said on Thursday.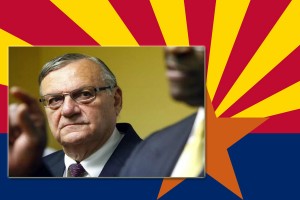 Maricopa County Sheriff
Joe Arpaio
's deputies regularly made unlawful stops and arrests of Latinos, the Justice Department said, adding there was also evidence they used excessive force and failed to protect the Hispanic community adequately.
"We found discriminatory policing that was deeply rooted in the culture of the department — a culture that breeds a systemic disregard for basic constitutional protections," said Thomas Perez, head of the Justice Department's civil rights division.
"In short, MCSO is broken in a number of critical respects," he said, referring to the Maricopa County Sheriff's Office, whose jurisdiction encompasses Phoenix.
In a separate move, U.S. Department of Homeland Security Secretary Janet Napolitano said she was ending a joint agreement with the Maricopa County Sheriff's Office that allowed its deputies to screen jail inmates for their immigration status.
A defiant Arpaio, who has denied that his department engages in racial profiling, defended his record at his own news conference and accused the Justice Department under President Obama of encouraging illegal immigration.
"By their actions today, President Obama and a band of his merry men might as well erect their own pink neon sign at the Arizona–Mexico border, saying, 'Welcome all illegals to your United States. Our home is your home.'"
Arpaio said, however, that he would cooperate with federal officials.
The Justice Department has given Arpaio until January 4 to agree to negotiations addressing the matter, warning it would seek a court order requiring compliance if his office balked.
The Obama administration previously has filed suit challenging a controversial new Arizona law, backed by Arpaio, requiring police to check the immigration status of anyone they detain and suspect of being in the country illegally.
A federal judge and the 9th U.S. Circuit Court of Appeals have sided with the Obama administration in putting the disputed provisions of the Arizona statute, SB 1070, on hold. But the U.S. Supreme Court has agreed to hear the state's appeal of those rulings.
RACIAL PROFILING
Critics of SB 1070 have said it would encourage racial profiling by police, a practice the Justice Department has said was endemic to the Maricopa County Sheriff's Office.
Specifically, the Justice Department said Arpaio's deputies regularly targeted people of darker skin complexion or who spoke Spanish at local businesses.
In the Justice Department's findings, officials discovered that Latino drivers were four to nine times more likely to be stopped than non-Latinos and that activists who spoke out against the tactics by Arpaio and his deputies were harassed.
Moreover, officers in the county's jails regularly discriminated against those Latino inmates who did not speak English well, according to the Justice Department.
The sheriff's high-profile crackdown on illegal immigrants has helped thrust the issue onto the national political stage, forcing the Obama administration to confront growing concerns about the roughly 11 million people believed to be living in the United States unlawfully.
Arpaio's force has been under investigation by federal authorities since 2008 during the Bush administration. Obama's Justice Department spent months fighting for access to documents and to some of his deputies. Arpaio was interviewed twice during the probe, Perez said.
Perez said a criminal investigation into the sheriff's office was ongoing and declined to elaborate.
Arpaio, who has touted himself as "America's toughest sheriff," has come under fire in the past for creating all-volunteer armed posses to sweep for illegal immigrants in Maricopa County and for policies such as making jail inmates wear pink underwear.
But he has proven popular in conservative Republican circles. Texas Governor Rick Perry sought and gained Arpaio's endorsement in November in a bid to rebut criticism from rival candidates for the Republican presidential nomination that he was too soft on illegal immigration.
The federal government is examining separate allegations that Arpaio's deputies failed to adequately investigate sexual assaults — a concern emphasized last week by the state's two U.S. senators.
By Jeremy Pelofsky and David Schwartz
WASHINGTON/PHOENIX, Dec 15 (Reuters) – (Editing by Peter Cooney, Steve Gorman and Peter Bohan)