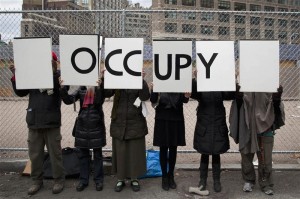 Occupy this: the trash bin. At least, so say students at
Michigan's Lake Superior State University
who released an annual list of words they deem so misused, overused and cliched they should be banished in the year ahead."Occupy," the term associated with the months-long protest movement in
New York
and across the
United States
against income inequality and a variety of other social ills, was among the 12 nominees after just a few months of overexposure.
"It has been overused and abused, even to promote Black Friday shopping," said Grant Barnett of Palmdale, California, who was among those to nominate the word.
"We are headed to Grandma's house – Occupy Thanksgiving is under way," said Bill Drewes of Rochester Hills, Michigan, giving another example of how the word has been overused.
At the head of the class, though, was the word "amazing," which garnered nominations from around the United States and from as far away as Israel and the United Kingdom for inclusion on the list by the school in remote Sault Ste. Marie.
Many nominators mentioned overuse on television, specifically by personalities such as Martha Stewart and Anderson Cooper, and on reality TV.
"Every talk show uses this word at least two times every five minutes. Hair is not 'amazing.' Shoes are not 'amazing,'" said Martha Waszak of Lansing, Michigan.
Although one critic suggested that the act of giving birth was amazing enough to be termed, well, amazing, the term "baby bump," often attached to pregnant celebrities such as Beyonce or Gwyneth Paltrow, drew scorn.
"This is a phrase we need to finally give birth to, then send on its way," offered Mary Sturgeon of Vancouver, British Columbia.
The school began its list of words proposed for banishment in 1976, when it named "at this point in time" a linguistic dud, as substituted for the concise and elegant "now." The college now receives well over 1,000 nominations each year through its website, lssu.edu/banished/.
Previous winners and nominees include the terms "shovel ready" for 2010, "battleground states" for 2005, "24/7" for 2000 and "family values" for 1995.
Also on this year's list were "shared sacrifice," "blowback," which is sometimes exchanged with "pushback" to mean resistance, and "mancave," now a favorite with advertising copywriters.
"Not every man wants a recliner the size of a 1941 Packard that has a cooler in each arm and a holster for the remote," said David Hollis of Hubbardsville, New York.
Heading into the 2012 election year, votes were cast to ban the term "win the future," a phrase that has been claimed by both the left (President Barack Obama) and the right (Republican White House hopeful Newt Gingrich).
Other vote-getters included "the new normal," "ginormous," a mash-up of gigantic and enormous, and "thank you in advance."
By Ros Krasny
BOSTON (Reuters) – (Reporting by Ros Krasny; Editing by Cynthia Johnston)