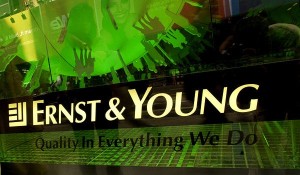 Ernst & Young LLP today announced it and its affiliates will reimburse lesbian, gay, bisexual and transgender (LGBT) employees for the additional federal and state taxes they pay on same-sex domestic partners' medical benefits in the US, making it the first Big Four accounting firm to offer this perk. The tax equalization (gross-up) is effective Jan. 1, 2012.
"Ernst & Young strives to promote an equitable work culture in every way possible," said Karyn Twaronite, Americas Inclusiveness Officer, Ernst & Young LLP. "Our decision to provide this tax gross-up reinforces our long-standing pledge to foster a work environment that is inclusive for all of our people and signals our ongoing efforts to remain a leader in providing equitable benefits."
Ernst & Young began offering employees in the US same-sex domestic partner benefits in 2002. Under federal law and many states' laws, same-sex partnerships are not recognized, causing people enrolled in domestic partner benefits to incur extra taxes.
As of December 2011, there were only 30 for-profit employers that grossed-up on these benefits, according to the Human Rights Campaign (HRC), one of the largest civil rights organizations working to achieve LGBT equality in the workplace. Ernst & Young LLP, which is the first of the Big Four professional services firms to receive a 100% rating for corporate equality from the HRC, is now also the first of the Big Four to provide this tax offset to its personnel.
The Ernst & Young organization has a long history of creating an inclusive environment for all employees through both policy and practice. The organization's leadership in LGBT inclusiveness extends globally, with many notable achievements by Ernst & Young LLP in the US:
Earned a 100% rating in the HRC Corporate Equality Index for seven consecutive years
Became first of the Big Four to be a 100% HRC-rated company and first to add gender identity/expression to its non-discrimination policies
Received The Trevor Project's 2020 Award, which recognizes an organization that has supported the LGBT community and has increased the visibility and understanding of LGBT issues
Recognized as the 2011 National Gay and Lesbian Chamber of Commerce Corporate Partner of the Year for work in supporting LGBT business owners and LGBT supplier diversity
Named one of DiversityInc magazine's Top 50 Companies for Diversity and was on its top 10 LGBT Employer list for six consecutive years
Presented on Out & Equal Town Calls and at Summit workshops, sharing tools and strategies for LGBT workplace inclusiveness
Participated in leading a Community of Practice on LGBT self-identification in surveys and human resources systems and other problem-solving task forces
Joined the HRC Business Coalition in support of Employment Non-Discrimination Act federal legislation
Souce: Ernst & Young