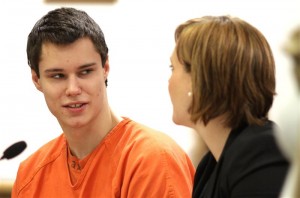 A serial burglar nicknamed the "Barefoot Bandit" was sentenced on Friday in
Seattle
to 6-1/2 years in prison for his guilty plea to federal charges stemming from a sensational, two-year crime spree as a sometimes-shoeless teenage runaway.The federal judge also ordered that
Colton Harris-Moore
, 20, serve his federal sentence simultaneously with a state term of more than seven years in a move his lawyers say could see him freed before his 26th birthday.
The proceedings marked the end of an extraordinary two-year saga for Harris-Moore, a high school dropout and self-taught pilot who escaped from a juvenile detention facility and stayed one step ahead of the law as he broke into homes and stole cars, boats and planes across nine states and British Columbia.
His exploits, which prosecutors said included at least 67 crimes, came to an end when he was captured in the Bahamas in July 2010 after crash-landing a stolen aircraft he had flown to the islands from Indiana.
The 78-month federal prison term he was given on Friday was the maximum he faced for seven federal charges he pleaded guilty to in June, including interstate transportation of two stolen airplanes and a yacht, a bank burglary, possessing a firearm as a fugitive and piloting an aircraft without a valid license.
Last month in state court in Coupeville, Washington, Harris-Moore, who grew up in the Puget Sound community of Camano Island, was sentenced to 87 months for 33 crimes ranging from residential burglary to attempting to elude police.
His lawyers said that with credit Harris-Moore is expected to receive for time served and good behavior, their client, who turns 21 in March, would likely spend 4-1/2 years in prison and could be released before his 26th birthday.
In a 5-minute statement read before District Judge Richard Jones pronounced the sentence, Harris Moore apologized for his crimes, "The lessons learned on the back of my victims are no way an excuse for my crimes."
Asked by the judge what message he would wish to send to young people, Harris-Moore said, "What I did could be called daring, but I'm lucky to be alive."
MOVIE DEAL
As part of his plea deal, Harris-Moore agreed to forfeit any profits from the rights to his life story. He has signed a movie deal with 20th Century Fox, setting aside about $1.3 million in proceeds as restitution to his victims.
During his December 16 state sentencing, Island County Superior Court Judge Vickie Churchill called Harris-Moore's case a tragedy but also a "triumph in the human spirit" because of his severely-troubled childhood.
Defense documents filed on Thursday argued that Harris-Moore was "at a low risk for re-offending and has the will and interest to make a life for himself as a member of the community."
A small commuter airline has communicated with Harris-Moore "about his future after incarceration," the documents said. They also cited e-mails from him expressing ambition to become a pilot.
A 39-page sentencing memorandum filed by prosecutors, however, questioned whether Harris-Moore was truly remorseful.
Prosecutors referred to e-mails and calls by Harris-Moore while in federal detention in which he referred to police as "swine" and "asses," the media as "vermin," and a Washington county prosecutor as a "complete fool."
The defense responded that "quoting and parsing his e-mails is, frankly, nothing more than an inflammatory attempt to use a cognitively impaired adolescent's thoughts against him."
At his state sentencing hearing, Harris-Moore described his childhood, growing up with an alcoholic mother, as one "that I would not wish on my darkest enemies."
His mother, Pam Kohler, slipped into Friday's proceedings shortly after they began and sat in the back row of the packed courtroom, listening intently, taking her sunglasses on off and craning her neck to catch glimpses of her son.
She waved to him during a break, and Harris-Moore, who has said through his attorneys in the past that he would rather she not attend his court appearances, acknowledged her with a nod and a slight smile. She then called his name out loud, "Colt."
Assistant U.S. Attorney Darwin Roberts said Harris-Moore's behavior was not excused by his troubled upbringing.
"Having a bad childhood and dreaming of flying an airplane is not a reason to break into a bank," he said.
One of the burglary victims, Kelly Kneifl of Yankton, South Dakota, testified about how his family was terrorized when they returned home from a trip in the middle of the night to find that Harris-Moore, naked, had broken into their house.
"For the next year, literally … Dad would have to go into the house first" and the children were to afraid to sleep in their own room.
By Laura L. Myers
SEATTLE (Reuters) – (Editing by Steve Gorman, Daniel Trotta and Cynthia Johnston)