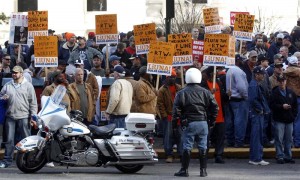 The Indiana state Senate on Wednesday gave final approval to a new law allowing workers at unionized businesses to avoid paying union dues, the last major legislative hurdle to making Indiana the first "right-to-work" state in the nation's manufacturing belt.
No state has approved a right-to-work law since Oklahoma a decade ago, and Indiana is being closely watched nationwide during a presidential election year. The Senate vote was 28 to 22.
Governor Mitch Daniels was expected to sign the bill Wednesday.
(Reuters) – (Reporting by Susan Guyett; Editing by Mary Wisniewski and Daniel Trotta)