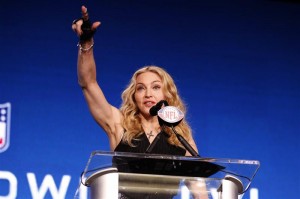 Pop superstar
Madonna
said it was a dream come true to perform at the Super Bowl halftime show on Sunday and conceded she was feeling pressure at the idea of singing in front of the huge live television audience.Last year's Super Bowl attracted 111 million U.S. viewers – the largest for a single TV broadcast in the
United States
.
"This is a Midwesterner girl's dream to be performing at the Super Bowl halftime show," said Madonna, who was born in Bay City, Michigan.
"In over 25 years of performing that I've done, I have never worked so hard or been so scrupulous or detail-oriented or freaked out as much as I have … trying to make the most major show at this Super Bowl," she added.
Asked if she felt the pressure of the massive audience, Madonna, who has performed at stadiums around the world on her global tours, replied simply "Yes, I do."
Madonna, whose biggest global live TV performance was likely Live Aid in 1985, said she would sing three "old songs" and her new single "Give Me All Your Luvin'" during the show.
The 53-year-old Material Girl said she would dedicate her performance to her father.
"I was raised in the Midwest, and he is the personification of Midwestern values, he gave me the work ethic that I have, so if I am a hardworking girl who never stops it's because of him.
"Also, I am sure of all the things I have ever done in my life this will be the thing he is most excited about," she said.
The halftime show has increasingly featured high-profile pop acts, a far cry from the first Super Bowl in 1967 when college marching bands entertained the crowd.
Paul McCartney, the Rolling Stones, U2, Prince, Bruce Springsteen, The Black Eyed Peas and Janet Jackson are among recent performers.
Jackson's appearance in 2004 was the most controversial as she made headlines worldwide with her infamous "wardrobe malfunction." Justin Timberlake, who was performing with Jackson, grabbed her costume and tugged at it, exposing her breast's nipple to millions of TV viewers.
Madonna said all efforts had been made to ensure there would not be a similar episode in her show.
"Great attention to detail has been paid to my wardrobe, there will be no wardrobe malfunction – I promise," she said.
Asked which quarterback she would choose if both called her for a date on Saturday night, the entertainer picked the New York Giants' Eli Manning over the New England Patriots' Tom Brady. Why Eli? Because of the New York connection, she said.
A question about Victor Cruz, the salsa-dancing wide receiver from the New York Giants, got her doing some salsa moves for reporters who packed the room. "He's inspired me," she said.
INDIANAPOLIS (Reuters) -(Reporting by Susan Guyett and Simon Evans; Editing by Mary Wisniewski and Bob Tourtellotte)