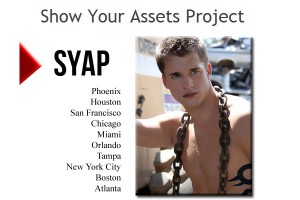 February 3, 2012 in Phoenix, AZ, was the kick-off of the Show Your Assets Project (SYAP), a year-long project photographing male celebrities and models. When completed, the project will produce a fine art photography book, limited edition prints, calendars, and cards. The project will also be filming such things as model and crew interviews, daily logs, and behind the scenes footage. The proceeds from the book, printed materials, and the film are to be donated to the Trevor Project thetrevorproject.org.
Project creator and photographer Tad Boomer says that the project is a response to the continuing tragedy of kids still being bullied for being lesbian, gay, bisexual, transgendered, or questioning their sexuality with too many completing suicide because of lifestyle intolerance. While the tragic death of Tyler Clementi and the resulting publicity gave the American public pause to consider that their vitriol was having tragic consequences, with this yearâ??s elections, I designed the project to remind the public about Tylerâ??s and others tragic stories in the hopes that the public will discuss LGBT rights in a civil manner. Show Your Assets Project has a three-fold mission:
– Create a source of continued income for the Trevor Project. This will be accomplished through publication of a fine art photography book, limited edition and unlimited prints, calendars, greeting cards, e-cards, and screen savers. We will be videotaping the photo shoots, model interviews, video logs, and behind the scenes footage to create an informative yet entertaining film of the project. All the proceeds are to be donated to the Trevor Project.
– Create public awareness of the project and its objectives. To achieve these objectives, we will be traveling to Phoenix, Houston, San Francisco, Miami /Orlando / Tampa, Boston, New York City, Chicago, then back to Atlanta photographing male models and male celebrities who are donating their time to participate. A project website http://syap.info is under development along with social media pages.
– Public participation is vital to our success not only to help get the word out, but to make the project a reality.
Model recruitment has been underway for a month. Reichen Lehmkuhl, of A-List New York fame, volunteered to be a model. You only have to be a male to be a model. And while we still need more models, we also need make-up artists, body painters/airbrushing artists, videographers, lighting specialists, and assistants in each of the cities. People are also volunteering their indoors and outdoors properties as shooting locations for photographing. And we are looking to get businesses involved through the sale of sponsorship ads space on our website which will also help offset the travel costs.
Anyone wishing to volunteer before the website is completed may do so by sending an email to volunteer@syap.info with your name and contact information. If you are wanting to model, you must be at least 18 or if younger, you must be accompanied by a parent or legal guardian. Volunteers, especially models are encouraged to apply early.
Dates for events are:
Phoenix 02/16 â?? 02/21
Houston 02/23 â?? 02/26
San Francisco 04/05 â?? 04/12
Chicago 05/22 â?? 05/29
Miami 06/05 â?? 06/12
Orlando 06/12 â?? 06/15
Tampa 06/15 â?? 06/18
New York City 08/02 â?? 08/09
Boston 10/02 â?? 10/09
Atlanta 11/01 â?? 11/30