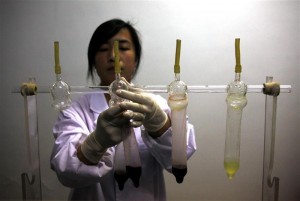 China hopes to cap the number of people living with HIV/AIDS at 1.2 million by 2015, up from around 780,000 at present, partly by promoting increased condom use, the government said in an action plan released on Wednesday.
While praising achievements made over the past few years, including improved life expectancy for AIDS patients, the State Council, or cabinet, said China still faced a difficult task to prevent the spread of the disease.
"The present spread of AIDS is still severe, there is widespread discrimination in society, the virus is a serious (problem) in some areas and amongst high-risk groups," it said in a statement on the central government's website (www.gov.cn).
Sexually transmitted diseases are also on the rise, it added, a particular concern as AIDS is now mostly spread in China through sexual intercourse.
"The situation is becoming more complex and prevention work is extremely difficult," the statement added.
China hopes to tackle these issues partly through a large increase in condom use, the government said.
By 2015, condoms or condom vending machines should be available in 95 percent of hotels and other, unspecified, public areas, and 90 percent of high-risk groups should be using condoms, the action plan states.
It did not provide comparative figures for current usage. The term "high risk groups" usually refers to gay men, intravenous drug users and others.
"By the end 2015, bring under basic control the rapid rise of the AIDS virus in main areas and among main groups of people, and reduce by 25 percent compared with 2010 the number of new infections," the government said in its plan.
To deal with ignorance among local officials about the disease, their knowledge of AIDS and ability to promote public education will become part of annual performance reviews, the government said.
The government was slow to acknowledge the problem of HIV/AIDS in the 1990s and had sought to cover it up when hundreds of thousands of impoverished farmers in rural Henan province became infected through botched blood-selling schemes.
Beijing has since stepped up the fight, spending more on prevention programs, launching schemes to give universal access to anti-retroviral drugs to contain the disease, and introducing policies to curb discrimination.
But in a country where taboos surrounding sex remain strong and discussion of the topic is largely limited, people with HIV/AIDS say they are often stigmatized.
BEIJING (Reuters) – (Reporting by Ben Blanchard; Editing by Ron Popeski)