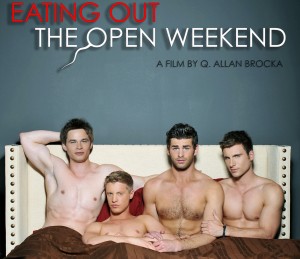 Eating Out's break-out star Aaron Milo has done it again! This 27 year old with a strong passion for all things film is returning to the silver screen, in the latest installment of the popular gay franchise, Eating Out: The Open Weekend.
Sexy couple Zack and Benji decide to have an "open" weekend to partake in the smorgasbord of available men on their vacation to a gay getaway in Palm Springs. When Zack runs into his ex-boyfriend Casey at the resort, they both do their best to look like they are having a good time. How could they not, when they are surrounded by cute, frisky guys with six-packs and very little clothing? When Casey reacquaints with his old high school friend Peter, he convinces him to pretend to be his boyfriend to save face with Zack despite Peter's reluctance. As sexual tensions start to mount between Benji and Peter, Zack becomes increasingly dissatisfied with his relationship while Casey longs for a stable relationship of his own.
Aaron Milo has been climbing the ranks, and is setting himself up to be one of the top gay actors in the industry. He has a huge fan following thanks to his boyish good looks and sweet demeanor. His role in the latest of the Eating Out series is sure to be another feast for the senses. With a wonderful storyline and a sexy Aaron, this will surely be a movie you will not want to miss.
Source: OutLoud Talent