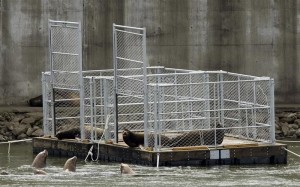 The
U.S. government
has sanctioned the limited killing of sea lions, which have feasted on endangered
Columbia River
salmon, in the states of
Oregon
and
Washington
.The decision on Thursday by the
National Oceanic and Atmospheric Administration
(NOAA) marked the latest reversal in the
federal government
's position on sanctioned killing of
California
sea lions.
It upset animal rights advocates, who argue the creatures are unfairly blamed for low fish stocks.
The hungry sea lions swim 140 miles upstream and cluster at the Bonneville Dam, on the border between Oregon and Washington state, to eat salmon and steelhead trout as the fish head up the Columbia River to spawn. That is seen by the states as a threat to the recovery of the fish.
But animal protection activists charge fishing, hatchery practices, hydroelectric dam barriers, and environmental degradation pose a far greater risk.
The sea lions most actively gorge on fish between early April and late May, during the height of the Chinook salmon run. The four-year NOAA authorization on sea lion killings is effective from March 20 until May 2016.
NOAA said its order allows 92 seal lions a year to be killed or removed, but the agency estimates only 25 to 30 are likely to be taken. Under the authorization, the fish-eating pinnipeds can be killed only if aquariums or zoos will not accept them.
Since 2008, states along the Columbia River have killed 28 sea lions and 10 of the animals have been sent to facilities, according to NOAA.
"We are very disappointed in this decision," said Sharon Young, marine issues field director for the Humane Society of the United States. "Lethal management is not necessary and will do nothing to help the salmon."
Idaho was also given the same power as Washington state and Oregon to target sea lions, even though the animals do not venture into Idaho. The inland state was included in the order because its fish stocks are hurt by the predators downriver.
Many stocks of Columbia River basin Chinook salmon and steelhead are protected under the U.S. Endangered Species Act. The sea lions are guarded under the Marine Mammal Protection Act, which is why the states must have permission to target them.
In July 2011, NOAA withdrew permission it had granted to Oregon and Washington to cull sea lions to protect fish stocks. That came two months after the Humane Society filed a lawsuit challenging an earlier federal authorization of sea lion killings at the Bonneville Dam.
That lawsuit has since been dropped, and the states re-applied with the federal government to target the sea lions.
Between less than 1 percent and 4 percent of the salmon run along the Columbia River is eaten by sea lions, according to NOAA.
As for California sea lions, they number nearly 300,000 along the West Coast, and biologists estimate that more than 9,000 of the animals could die from interactions with humans, such as ship strikes or fish net entanglements, without harming the species, NOAA said in a statement.
The NOAA order only allows the states to kill sea lions if they are clearly eating salmon, even after hazing from wildlife managers such as the use of firecrackers and rubber buckshot.
By Teresa Carson
PORTLAND, Oregon (Reuters) – (Editing By Alex Dobuzinskis)