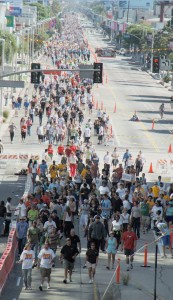 According to the New Jersey Department of Health, New Jersey ranks fifth in the nation for new HIV infection cases with 37% of those cases in Essex County
North Jersey Community Research Initiative (NJCRI) announced today that it is the Newark, NJ host and beneficiary of the New Jersey AIDS Walk 2012. On Sunday, May 6, 2012, for the first time in its history, NJCRI will welcome HIV/AIDS advocates, community based organizations, supporters, and those currently living with HIV/AIDS from across the region for a 5K walk in historic Branch Brook Park.
The New Jersey AIDS Walk is a 501 (c) 3 collaborative of seven New Jersey cities that are home to leading HIV/AIDS service organizations. These cities unite to produce state-wide awareness and fundraising walks. Sponsored statewide by Walgreens, walks in all seven cities are open to all and registration is free. Walks will take place in Asbury Park, Atlantic City, Morristown, New Brunswick, Newark, Pennsauken, and Ridgewood. A unified step-off in all cities will be at 1 p.m.
"For over 25 years we've provided free and confidential medical services, counseling and testing, outreach, gay and lesbian youth support, and a host of other services to those in Newark and Essex County who are living with HIV/AIDS or who are at risk for contracting the virus," explained Brian McGovern, Executive Director of NJCRI. "The New Jersey AIDS Walk helps us spread the message that AIDS is still infecting thousands of people in our area."
Local and regional corporations as well as non-profit organizations are encouraged to participate in the New Jersey AIDS Walk 2012 with NJCRI. HIV/AIDS service organizations that participate in the walk are eligible to keep a portion of the money they raise.
Visit www.njcri.org for more information on becoming a sponsor or to register to walk.
About NJCRI —The North Jersey Community Research Initiative (NJCRI) empowers HIV/AIDS patients and those at high-risk by reducing social and health disparities in the greater Essex County area through increased access to medical care and other concrete services including psychosocial support, practical skills building, and knowledge dissemination.
About New Jersey AIDS Walk — Formed in 2010, New Jersey AIDS Walk is a consortium of the state's leading HIV service organizations that produces walks to raise money for HIV/AIDS organizations.
NEWARK, N.J., March 19, 2012 /PRNewswire-USNewswire/ —