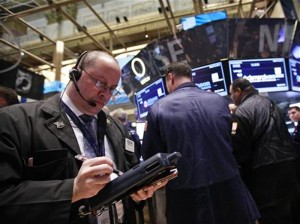 Stock index futures fell on Tuesday ahead of housing market data after the
S&P 500
advanced for a third straight session, moving within 10 percent of its historic closing high.The benchmark
S&P
has risen in eight of the past nine sessions, putting the index at its highest point since May 2008 and 10 percent below the record close of 1,565.15 in October 2007.
At 8:30 a.m. EDT (1230 GMT) the Commerce Department will release housing starts and permits for February. Economists in a Thomson Reuters survey forecast a 700,000 annualized rate in February versus 699,000 in January.
"It's not going to be this huge resurgence because we need everything to work together. We need people to have jobs, we need increased income and we need that banking sector to be able to lend," said Kim Forrest, senior equity research analyst at Fort Pitt Capital Group in Pittsburgh.
"That being said, it isn't the market it was last year at this time."
Investors will monitor talks as Italian Prime Minister Mario Monti began a final push for a deal with unions to revamp labor laws aimed at creating jobs and underpinning wider reforms to aid the weak economy.
Adding to concern were signs of slowing in China's economy as Australian miners such as BHP Billiton signaled iron ore demand was weakening. U.S.-listed shares of BHP fell 2.7 percent to $73.48 premarket.
S&P 500 futures fell 8.3 points and were below fair value, a formula that evaluates pricing by taking into account interest rates, dividends and time to expiration on the contract. Dow Jones industrial average futures dropped 67 points, and Nasdaq 100 futures lost 13.5 points.
Jewelry chain Tiffany and Co early Tuesday forecast higher fiscal-year results, helped by expansion in Asia and the Americas and sales that so far are in line with its projections. Shares rose 3 percent to $70.75 premarket.
Earnings were also expected from contract manufacturer Jabil Circuit Inc , software maker Oracle Corp , computer contractor SAIC Inc .
Adobe Systems Inc lost 4.2 percent to $33.05 in light premarket trade after the maker of the Photoshop and Acrobat software reported quarterly revenue growth slowed, missing forecasts.
Bank of America Corp gained 0.5 percent to $9.58 after the company said it won't issue additional equity in a secondary offering, contrary to rumors that may have lowered its stock price during Monday trading.
Walt Disney Co expects its science-fiction movie "John Carter" to lose about $200 million, leading its studio unit to post an operating loss of $80 million to $120 million in the fiscal second quarter.
European shares <.FTEU3> were off 1.1 percent, falling for a second day as investors took more profits after rallying to an 8-month high last week. Stronger U.S. housing data could give the market a boost. <.EU>
Shares in Asia slipped, led by losses in Hong Kong and Shanghai on underwhelming corporate earnings.
NEW YORK (Reuters) – (Reporting By Chuck Mikolajczak; editing by Jeffrey Benkoe)