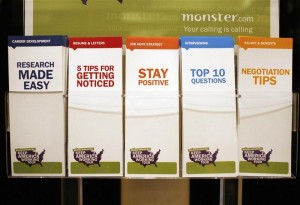 Monster Worldwide Inc is open to selling all or part of itself and expects to have data ready for potential buyers fairly soon, Chief Executive Sal Iannuzzi said in an interview.
Monster shares are up about 17 percent so far this year, having rallied since Iannuzzi told an investor conference early this month that the company was considering "strategic alternatives."
The company has drawn considerable interest since he made those comments on March 1 but has not yet begun formal talks, said Iannuzzi, whose company runs the Monster.com jobs-search Website.
Monster this month retained Stone Key Partners LLC and BofA Merrill Lynch as financial advisers to help review strategic alternatives.
Analysts have identified several possible avenues for the company: an outright sale; the sale of a stake or some of its territories, such as its Chinese or South Korean assets; or a leveraged buyout.
Asked to identify the alternatives, Iannuzzi said:
"It means selling the company, potentially. It means bringing in a partnership in a region of the world where we can share the expense … it could mean a strategic investment in terms of someone buying a sizeable piece of Monster. It could be a foreign market or could be here in New York."
Since Iannuzzi said the company is considering strategic alternatives, analysts have cautioned there are no obvious buyers for the company.
'ANYTHING'S FOR SALE'
In afternoon trading on Thursday, the stock was up 1.7 percent at $9.46, its highest since October. At that price, Monster has a market capitalization of about $1.1 billion.
"At a certain price, anything's for sale," Iannuzzi said. But it would have to be compelling and it would have to make sense to Monster as a whole. This is not just about raising money."
The company, Iannuzzi said, has received considerable interest from potential buyers but has not yet engaged because it is still preparing data potential buyers would need to evaluate bids.
"We're going to serve that up to them relatively soon," Iannuzzi said.
The New York-based company, whose model of job ads is facing new competition from social media such as Facebook and LinkedIn Corp, said in January it would cut 7 percent of its staff, or 400 jobs.
Its technology initiatives include Power Resume Search, which makes it possible to identify workers with specific skills, and BeKnown, a way for employers to reach candidates via Facebook. That "app" could make it easier to find so-called passive job candidates who are currently employed.
At Thursday's event, Monster executives showed off semantic search technology that takes into account the context of words, helping recruiters who wade through piles of resumes to find candidates more efficiently.
Monster, which bought rival HotJobs.com in 2010, also competes with operators of specialized job sites, such as Dice Holdings Inc, which focuses on financial, IT and other sectors, and with hundreds of small operators. Aggregators of listings, such as SimplyHired.com and Indeed.com, have also emerged as rivals. The online recruitment market is estimated at more than $5 billion.
$16 STOCK?
UBS this month downgraded Monster shares to "Neutral," and cut profit estimates for this year and next, citing market share losses and slowing markets. It estimated Monster's 2012 share of online recruitment at 23 percent, below CareerBuilder.com's 32 percent but ahead of LinkedIn's 16 percent.
CareerBuilder does have the resources to buy Monster, Monster's CEO said.
CareerBuilder did not immediately return a call seeking comment.
A potential buyer of Monster might have little interest in selling job postings to recruiters, but it could be drawn by access to raw data about job seekers, said SunTrust Robinson Humphrey analyst Tobey Sommer, who has a "Buy" rating and a $16 price target.
"They may be trying to convey that there is something beyond just looking at the (profit and loss statement), that perhaps some other firm might be able to monetize in a way they're not able to," Sommer said, without naming potential buyers.
Recent U.S. job trends make the company more attractive, he added. The types of jobs being created in the current U.S. labor recovery play to Monster's strength in mid-level job categories, Sommer said.
Although it's an Internet company, Monster is susceptible to the same economic forces as traditional staffing companies like ManpowerGroup and Robert Half International. The industry has seen a recovery in U.S. demand for workers, but softer staffing markets in Europe.
NEW YORK (Reuters) – (Reporting By Nick Zieminski in New York; Writing by Scott Malone in Boston; Editing by Gerald E. McCormick and Steve Orlofsky)