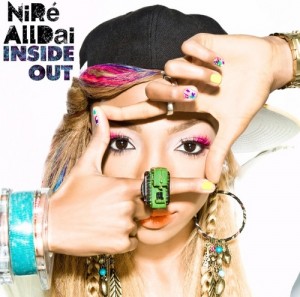 Meet NiRé All'Dai and you get the feeling the singer, songwriter and star-in-the-making was born for this. "When I was 7, I'd sit at the piano in our garage and play by ear for hours on end," says the Los Angeles native, who never took a lesson in her life. She smiles. "Then I'd make my whole family come and watch the show." Her songs sound a bit different today?look no further than the sultry, swaggering dance-pop anthem "STFU (Shut The Fuck Up & Party)"?but a few things stuck around. That attention to detail, that undeniable immediacy and, most importantly, that intense magnetism. When she asked her folks to watch her play, you better believe they did. When she tells us to hit the dance floor, we damn well do.
NiRé's music is the perfect analog to her striking fashion sense. Bright colors burst through the speakers. Frills and feathers run up against polka dots and a punker's stance. Plaids sparkle; leather glows; the lace might cut you. Her sound is as bright and iconoclastic as her look, and both are self-made. Creativity has burst from NiRé her entire life. "I was in the shower singing this hook I'd had in my head for months. All of a sudden the rest just poured into my mind. I jumped out, wrote the song in seven minutes and called my mom and said ?Music is what I want to do.?
A chance encounter with an old friend led NiRé into the studio and seemingly overnight she became a star behind the scenes. She was hand-picked by Timbaland to join his writing staff and is, to this day, an in-demand free agent. She's crafted songs and sung hooks for Grammy-winning producers like Dr. Dre, Scott Storch and Stargate, written lyrics for Mary J. Blige, Keri Hilson, KeKe Pamer, Demi Lovato and wrote "Superluva" by Blige protégé Starshell, produced by hitmaker Fernando Garibay.
[youtube 8zLd9gqwH5g]
But NiRé is much more than a stunning résumé, and her debut album, due out on Virgin Records in 2012, is the sound of a true artist coming into her own. She's come a long way from the kid slinging handmade CD-Rs around town, covers lovingly co-assembled by mom. While proving her mettle amongst the big dogs, she secretly stowed away her best ideas, but when time came to record, she was hit by a bolt of inspiration and wrote everything anew. "I'm always into doing something I've never done before," she says. "It's like being in competition with yourself to create the next best thing, like, 'How crazy can I be?' It's really liberating."
While "STFU" peppers propulsive groove with blasts of New Jack Swing percussion and NiRé's darkly digitized vocals, "Kick in the Door" finds her delivering OutKast-inspired verses over snapping snares and boom-bap bass. "Dizzy Go Round" is a bona fide club banger rightly summed up by its sassy in-song warning: "Get in or get out, 'cause it's going down." Meanwhile, the fast-paced "Inside Out" plays with glitchy lo-bit effects and "Riot" crests in an avalanche of dubstep rumble. Throughout the album our whip-smart heroine (and her go-to producer Max Methods) transcends genre and expectation with ease.
"For me, it's all about the energy," she says. "Everything around us is magnetic, and sound is too. I enjoy all kinds of music, from Madonna to Missy, whether it's fun or about real shit?you know, the stuff we all think about. I want to bridge all of that. I'm into helping everybody get to the next level." It should come as no surprise then, that in an ancient dialect, NiRé means "the one with wings."