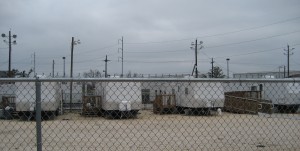 More than 20 mobile home manufacturers have agreed to pay $14.8 million to thousands of U.S. hurricane victims who said they were harmed by formaldehyde in the trailers.
Lawyers for the plaintiffs, who lived in trailers after being left homeless by Gulf Coast hurricanes Katrina and Rita, filed the preliminary settlement in federal court in New Orleans on Friday, asking U.S. District Judge Kurt Engelhardt to approve it.
The settlement could affect tens of thousands of people who lived in trailers provided by the Federal Emergency Management Agency after Katrina and Rita devastated the Gulf Coast and left thousands homeless in August and September 2005.
Residents of the homes said they suffered from illnesses ranging from respiratory irritation to more serious problems, Justin Woods, attorney for the people who lived in them, said on Tuesday.
Formaldehyde is a colorless, flammable gas that has a distinct, pungent smell and is used in the production of paper, resins and building materials such as plywood. Exposure over a short period can lead to respiratory irritations. Longer-term exposure can lead to cancer, the Centers for Disease Control says on its website.
Woods said the first lawsuit in the matter was filed in 2006 and in the following year, after hundreds of individual suits had stacked up in Louisiana, Alabama, Mississippi. Many related cases were consolidated in federal court in New Orleans.
The litigation turned into a maze of scientific expert testimony, which made the legal process extremely complicated, Woods said.
"Considering the circumstances surrounding the litigation and its complexity, we believe that this is a fair outcome," he said.
A memorandum filed in court by both sides said: "Approving this settlement will end the excessive bleeding of costs by both sides in litigation."
If the judge approves the settlement, attorneys will ask potential victims to file claims with the court, possibly by late August.
Woods said the number of claims could range from 10,000 to 20,000, depending on how many people respond.
Twenty-one trailer manufacturers have signed on to the agreement, in which they do not admit to fault.
Companies named in the settlement include: Coachman Industries Inc; Frontier RV Inc; Heartland Recreational Vehicles LLC; Hy-Line Enterprises Inc; KZRV, LP; Pilgrim International Inc; Play-Mor Trailers Inc; Recreation by Design LLC; R-Vision Inc; Skyline Corporation Inc; SunRay RV LLC; Thor Industries Inc; Timberland RV Company; and TL Industries Inc.
Attorneys for the companies could not be reached for comment.
A hearing on the proposal is tentatively set for August 1, Woods said.
By Kathy Finn
NEW ORLEANS (Reuters) – (Editing by Greg McCune and Bill Trott)