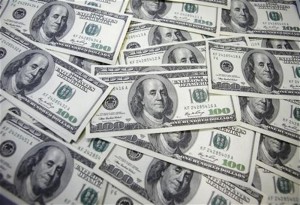 A Virginia woman found out on April 7 she won $1 million in a lottery drawing. And then she won again.
Virginia Fike of Berryville, Virginia, had the good luck to buy not one but two lottery tickets from a truck stop that both turned out to be $1 million winners, matching five of the six Powerball numbers. Lottery officials presented her with a $2 million check on Friday.
Fike said she found out that she had won – and won again – while sitting in a hospital room with her mother, according to a statement distributed by the Virginia lottery.
"I saw a scroll on TV about there being two $1 million winners," she said. "I looked at my mom and said 'Wouldn't it be funny if it was us?'"
She said she planned on using the money to "take care of my parents" and pay bills.
For selling the tickets, the lottery awarded a $20,000 bonus to the Olde Stone Truck Stop.
To win the full Powerball jackpot, which currently stands at $131 million, a ticket must match the numbers on all five white balls in the drawing, plus the red Powerball. The $1 million cash prize is awarded for a ticket that matches the five numbers on the white balls, in any order.
The odds of winning $1 million? One in 5,153,632.65. The drawing takes place every Wednesday and Saturday night.
"I just love the jackpot games and I play when I can afford it," Fike said in the statement.
(Reuters) – (Reporting by Paul Thomasch; Editing by Greg McCune and Jackie Frank)