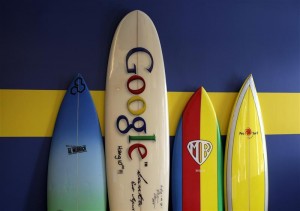 Google said it would have been of little help to U.S. regulators to give them access to the engineer who wrote a computer program that let its Street View cars collect emails, passwords and other personal data from people's home wireless networks.
"The fact that the engineer was legally unavailable did not leave any significant factual questions unanswered," Google wrote in a letter to the Federal Communications Commission's Enforcement Bureau on Thursday.
Google was fined $25,000 by the FCC for impeding its investigation into the matter, in which the company's Street View cars collected the Wi-Fi data over several years while crisscrossing the globe taking panoramic pictures of streets.
Google, which generated roughly $38 billion in revenue last year, said it would pay the FCC fine to "put this investigation behind it," but disputed the agency's claims that it did not cooperate with the 18-month investigation.
Google said in the letter that it was legally unable to provide access to the engineer – referred to as Engineer Doe – because the engineer had declined to testify and invoked his Fifth Amendment right against self-incrimination.
The FCC said earlier this month that it would not take any enforcement action against Google for the incidents, which Google has called a "mistake." The agency said it wasn't clear that Google violated federal wiretap laws by collecting unencrypted personal data that people transmitted over their wireless home (WiFi) networks.
Google noted in the letter that the United States Department of Justice "long ago completed its own thorough examination" of the issue, with access to Google employees and a review of key documents, and concluded that it would not pursue a case for violation of the Wiretap Act.
A spokeswoman for the DOJ declined to comment.
An FCC spokeswoman said in an emailed statement that the agency stands behind the work of its staff who investigated Google's "secret collection" of personal data and that Google had "rightly admitted wrongdoing" in promising to pay the FCC's penalty.
The incident, and the FCC's lack of enforcement action, have prompted protest from privacy advocates. United States Representative Edward Markey has called for Congress to hold a hearing about Google's actions, which he said "leave many questions unanswered."
The Federal Trade Commission ended an investigation into the matter in 2010 without imposing any penalties on Google.
The company displays the pictures taken by its Street View cars in its online Maps product, but collecting the WiFi data was unrelated to the Google Maps project, and was done instead so that Google could collect data on WiFi hotspots that can be used to provide separate location-based services.
Google has said it thought it was only collecting a limited type of WiFi data relating to a WiFi network's name and router numbers, but later discovered that it was collecting so-called pay-load data including email messages, website addresses and passwords. Google blamed the snafu on a piece of computer code that was accidentally included from an experimental project.
Google said that it reviewed more than half a million documents for the FCC and arranged for interviews with "everyone the FCC asked to meet." Google said that most of the delays in the investigation were due to the agency's internal processes, and that Google agreed to extend the statutory deadline for the FCC probe by seven months.
"That is hardly the act of a party stonewalling an investigation," said the letter from a lawyer representing Google.
While the engineer responsible for the rogue code would not talk to the FCC, Google said he had fully cooperated with the company's internal investigation, stating that he "believed the collection of publicly broadcast information sent over unencrypted Wi-Fi networks to be lawful."
SAN FRANCISCO (Reuters) – (Reporting By Alexei Oreskovic; Editing by Gary Hill)