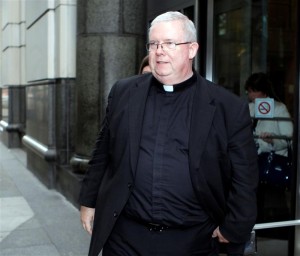 A Philadelphia jury ended a third day of deliberations on Tuesday without reaching a verdict in the child sex abuse trial of a Roman Catholic monsignor, the highest ranking U.S. clergyman to stand trial in the church's wide-ranging pedophilia scandal.
Monsignor William Lynn, who for 12 years as secretary of the clergy supervised hundreds of priests in the Philadelphia Archdiocese, is accused of conspiracy and child endangerment.
If convicted on all charges, he faces the possibility of 21 years in prison.
The jury in Common Pleas Court before Judge Teresa Sarmina began deliberating on Friday after hearing 10 weeks of testimony in the closely watched trial that has rocked the nation's sixth largest Archdiocese, with 1.5 million members.
Prosecutors said Lynn, 61, covered up child sex abuse allegations, often by transferring priests to unsuspecting parishes.
Lynn's motive was to avoid scandal and any potential loss of money for the church, they argued. His job was to supervise 800 priests, which included investigating sex abuse claims, from 1992 to 2004.
The defense said Lynn tried to handle documented cases of pedophile priests, making a list in 1994 of 35 accused predators and writing memos to suggest treatment and suspensions.
He was hampered because he could only make recommendations to the head of the Archdiocese, Cardinal Anthony Bevilacqua, who died in January at age 88, the defense said.
Thousands of cases of child sex abuse by priests have come to light in Europe and the United States in recent decades. More than 10,000 allegations of child sex abuse were brought against U.S. priests between 1950 and 2002, according to a report commissioned by the U.S. Conference of Catholic Bishops.
The jury is also deliberating the fate of the Reverend James Brennan, 48, who is charged with child endangerment and the attempted rape of a 14-year-old child in 1996.
By Dave Warner
PHILADELPHIA (Reuters) – (Editing By Ellen Wulfhorst and Christopher Wilson)