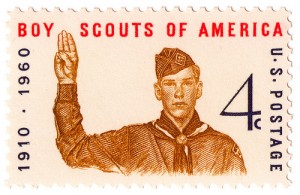 Jim Turley, chairman and chief executive officer of Ernst & Young and a board member of the Boy Scouts of America, has joined calls to end the group's exclusion of gays.
Another Boy Scout board member, CEO Randall Stephenson of the telecommunications giant AT&T, said on Wednesday he favors diversity but did not go as far as Turley in speaking against the Scouts' policy.
In a statement issued by Ernst & Young, the global tax and consulting firm, Turley said he will "work from within" the Boy Scouts to help change its policy that prohibits gays from being members or leaders of one of America's largest youth organizations.
"I support the meaningful work of the Boy Scouts in preparing young people for adventure, leadership, learning and service. However, the membership policy is not one I would personally endorse," Turley said.
"As I have done in leading Ernst & Young to being a most inclusive organization, I intend to continue to work from within the BSA Board to actively encourage dialogue and sustainable progress."
Turley's announcement came in the wake of a petition on Change.org, the web-based social change platform, that was signed by 275,000 people calling for the Boy Scouts to end the group's ban on homosexuals.
The petition was started by Jennifer Tyrrell, an ousted lesbian den leader from Ohio. "We are at a tipping point, with national leaders within the Boy Scouts now taking a firm stand to help end discrimination," Tyrrell said in a statement issued by Change.org.
Tyrrell and others are now calling on Stephenson to join Turley in breaking with the Scouts' gay policy. In his statement Stephenson did not go as far as Turley, although he expressed support for diversity and appeared to agree with Turley's concept of change from within.
"Diversity and inclusion are part of AT&T's culture and operations, and we're proud to be recognized as a leader in this area," Stephenson said.
"We don't agree with every policy of every organization we support, nor would we expect them to agree with us on everything. Our belief is that change at any organization must come from within to be successful and sustainable."
BSA RESPECTS BOARD OPINIONS
Tyrrell praised Stephenson's record on gay rights at AT&T, but said support for the Boy Scouts gay policy could undermine its otherwise stellar reputation. "His company provides non-discrimination protections, healthcare benefits for same-sex partners, and much more for gay employees," Tyrrell said.
"The last thing AT&T wants is to undermine its excellent reputation for supporting LGBT people by failing to support a resolution that would bring equality to the Boy Scouts of America."
The Boy Scouts of America said in a statement on Wednesday it respects the opinions of its board members.
"While we have supporters and board members with different viewpoints on this issue … we believe that good people can personally disagree on this topic and still work together to accomplish the mission Boy Scouts of America," the statement said.
The group, founded 102 years ago, has so far resisted calls to change its policy on homosexuals. "While the BSA does not proactively inquire about sexual orientation of employees, volunteers, or members, we do not grant membership to individuals who are open or avowed homosexuals or who engage in behavior that would become a distraction to the mission of the BSA," the Boy Scouts said in an earlier statement responding to the petition.
The campaign against the Boy Scouts' gay ban has gathered momentum in the past 18 months led by Tyrrell and Zach Wahls, a 20-year-old Eagle Scout who has two lesbian mothers.
Wahls, an engineering student at the University of Iowa who attained the organization's highest rank of Eagle Scout, became an Internet sensation in January 2011 when his address to the Iowa House of Representatives supporting gay civil unions logged more than 2.5 million views on YouTube.
Wahls also delivered Tyrrell's petition last month to the Boy Scouts of America annual board meeting in Orlando.
The petition urges the Scouts to reinstate Tyrrell, a 32-year-old lesbian mother from Bridgeport, Ohio, who was ousted as a Scout den leader and treasurer in April because of the gay exclusion policy.
The Boy Scouts of America in 2000 won a 5-4 U.S. Supreme Court ruling allowing the organization to ban gays whose conduct, the Boy Scouts argued, violated its values.
The Boy Scouts of America claimed more than 1 million adult volunteers at the end of 2011. It was founded in 1910 as part of the international Scout movement established in Britain by General Robert Baden-Powell.
(Reuters) – (Writing by David Adams; Editing by Bill Trott)