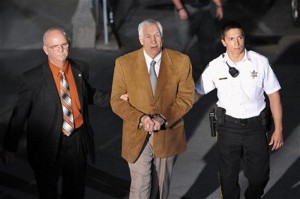 Former Penn State assistant football coach Jerry Sandusky still maintains he is innocent of sexually abusing children, remains determined to clear his name and insists that he has always been faithful to his wife, Dottie, his defense lawyer said on Monday.
Sandusky, 68, was convicted last Friday on 45 counts of child sex abuse charges in a case that rocked U.S. college football and raised awareness of child molestation.
Sandusky has been confined to jail since then to await sentencing, while his attorneys vow to appeal the verdict.
Sandusky faces a maximum penalty of more than 400 years in prison when he is sentenced.
"He would like to be exonerated," Sandusky attorney Karl Rominger said Monday after visiting his client in a Pennsylvania jail.
"The main reason is he wants the public to know he's not guilty, but the most important reason is he wants to maintain his innocence for his family's sake," Rominger told Reuters. "He really feels that (the conviction) is an insult to his wife, who he has loved and been faithful to all these years."
Dottie Sandusky posted bail for her husband when he was arrested last fall, accompanied him to court and testified on his behalf.
Victims testified that some of the sexual abuse took place in the Sandusky home, but Dottie Sandusky testified that she never saw or heard any inappropriate conduct between her husband and the young boys who came over to the house.
Sandusky's attorneys have said they plan to appeal on a number of grounds, including their assertion that they lacked adequate time to prepare for the case, and because prosecutors were allowed to present as evidence an inaccurate version of a television interview Sandusky gave to NBC News before the trial.
Pennsylvania Attorney General Linda Kelly said on Monday that contrary to issues raised by the defense, the former coach received a fair trial and prosecutors expect to prevail on any appeal.
"As far as the timing, the judge made it clear from the beginning to all the parties that he intended to move this case along quickly," Kelly said on CNN.
"We were anxious to have this case brought to a conclusion so that the defendant who was not in custody during the process … so we could move to have his bond revoked."
Rominger also said Sandusky was not suicidal and is anxious for a psychiatric evaluation to determine him mentally healthy enough to receive visits from family and friends.
"Jerry said to me that he was looking forward to being evaluated by the psychiatrist because he was going stir crazy sitting in that holding cell by himself and just needed to get a chance to get out and see family," Rominger said.
"He lost some of his energy, but we still share a joke or two about a few unrelated things, inside jokes basically. He's still capable of a little bit of humor. He told me he's been thankful for the companionship of the guards who've been supervising him because otherwise he'd have no one to talk to."
Ann Van Kuren, one of the jurors in the case, told "CBS This Morning" on Monday that she felt sympathy for Sandusky's victims, who testified against him at the trial, and hoped the outcome would help heal some of the emotional scars of their experience.
"Nobody deserves what happened to them," she said of the victims.
Sandusky's attorneys unsuccessfully sought a mistrial before his conviction on grounds that prosecutors showed jurors a flawed version of a Bob Costas interview with the former coach that aired last November on various NBC programs.
The faulty version, which was broadcast on the "Today" show, contained an erroneous repetition of a key question and answer about whether Sandusky was sexually attracted to young boys. Sandusky's lawyers contend the repetition made it appear to jurors that Sandusky was stonewalling.
On Monday, Kelly stood by the decision to play the interview for jurors.
"That was an interview that was conducted in the presence of his attorney, and we felt that it was significant and important enough to play that to the jury to see the defendant's demeanor and to show consciousness of guilt," Kelly told CNN. "But we also believed that this case really turned on the testimony of the victims."
Sandusky faced 48 counts of sexual abuse of 10 boys over a 15-year period, sometimes at Penn State facilities. The jury convicted him of 25 felonies and 20 misdemeanors.
In an interview on NBC's "Today" show, Kelly would not speculate on whether Sandusky would face additional charges in light of new accusations by his adopted son, 33-year-old Matt Sandusky, that he, too, was sexually abused by the former coach.
(Reuters) – (Reporting by Chris Francescani in New York; Editing by Steve Gorman and Lisa Shumaker)