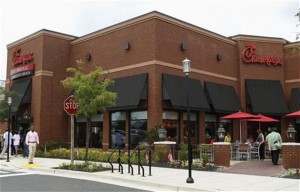 Gay rights activists and backers of same-sex marriage plan to hold a nationwide "kiss-in" at Chick-fil-A restaurants on Friday to protest the fast-food chain president's opposition to homosexual unions.
Same Sex Kiss Day is a reaction to comments last month from Dan Cathy, who said he supported "the biblical definition of the family unit" and that backers of gay marriage were "arrogant."
Carly McGehee, a Dallas political activist who came up with the idea of the kiss-in, said more than 15,000 people have said they will join the protest since she posted an announcement on her Facebook page on July 19.
Cathy's company "is continuously supporting hate and bigotry and intolerance," said McGehee, 24. "He has the right to do that, but he has to be prepared for the backlash, for the repercussions. This is America."
Customers who backed Cathy's stance swamped Chick-fil-A outlets on Wednesday, giving the 1,600-store chain – known for chicken sandwiches, waffle fries and being closed on Sundays – a "record-setting day," a spokesman said on Thursday.
The Gay & Lesbian Alliance Against Defamation (GLAAD) says Cathy's stance goes beyond opposition to same-sex marriage, with Chick-fil-A financially backing groups that are anti-lesbian, gay, bisexual and transgender.
"Consumers and communities have every right to speak up when a company's president accuses them of 'inviting God's wrath' by treating their LGBT friends, neighbors and family members with respect," GLAAD President Herndon Graddick said in a statement.
Steve Robinson, a Chick-fil-A spokesman, said in a statement about the "kiss-in" that the chain's goal was "to provide great food, genuine hospitality and to have a positive influence on all who come into contact with Chick-fil-A."
Marci Alt, 48, of Atlanta, has started an online petition calling for Cathy to come to her home for dinner with her family, including her partner of 12 years and their two children.
"I thought I would take a different approach, and try the good old-fashioned way and sit down and talk," she said. Alt will also be among those protesting at the chain's Decatur, Georgia, site.
WASHINGTON (Reuters) – (Reporting by Chris Francescani and Paul Thomasch in New York and Ian Simpson in Washington; Editing by Vicki Allen)