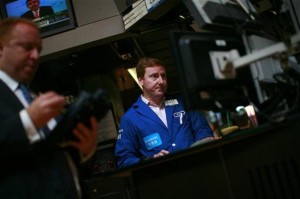 Wall Street stocks rallied on Friday after employers hired more workers than expected last month, putting the S&P 500 on track to recover all of the losses posted during its recent four-day losing streak.
Data showed employers in July hired 163,000 workers, the most in five months and above expectations calling for an increase of 100,000 jobs. But an increase in the jobless rate to 8.3 percent clouds the picture of what the Federal Reserve will do about additional monetary stimulus.
The S&P 500 index had fallen more than 1.5 percent this week before Friday's advance as investor hopes for further stimulus measures from the European Central Bank and U.S. Federal Reserve were dampened and a trading error at market maker Knight Capital Group Inc on Wednesday dealt another blow to confidence in market structure.
"After everything that has been going on with Europe and central banker disappointment the markets were priced for disappointment and anything above a disappointment would get a positive response – but this number isn't good enough to fix the economic problem that we are in," said Ron Florance, managing director of investment strategy for Wells Fargo Private Bank based in Scottsdale, Arizona.
"You'll need an excuse to fall off the top of trading range and bounce off the bottom – it's a nice way to end a week of turmoil."
The S&P 500 decline came after the benchmark index saw its best two-day run of the year to close out the prior week as ECB President Mario Draghi heightened expectations for more immediate action to contain the euro zone debt crisis when he pledged to do "whatever it takes" to save the euro. But on Thursday, he dashed hopes for quick rescue measures.
Knight Capital shares surged 20.2 percent to $3.10 in volatile trade after the Wall Street Journal reported the market maker has told brokers that it has obtained a line of credit, which will allow it to operate for the day. The company is fighting for survival after a $440 million trading loss caused by a software glitch wiped out much of its capital.
The Dow Jones industrial average <.DJI> gained 217.40 points, or 1.69 percent, to 13,096.28. The Standard & Poor's 500 Index <.SPX> gained 24.75 points, or 1.81 percent, to 1,389.75. The Nasdaq Composite Index <.IXIC> gained 55.36 points, or 1.90 percent, to 2,965.13.
Other data showed the pace of growth in the vast U.S. services sector edged up in July to 52.6 versus the 52.1 reading in June and above analyst expectations for a reading of 52.
Dow component Procter & Gamble Co advanced 2.6 percent to $65.17 after the world's largest household products maker posted a higher-than-expected quarterly profit and said it would repurchase $4 billion worth of its shares this fiscal year.
LinkedIn Corp jumped 14.3 percent to $106.87 after the professional networking site reported higher-than-expected revenue and raised its full-year outlook as it pocketed more money from subscribers, services aimed at businesses and advertising.
NYSE Euronext said new strategies and cost cuts should help the trans-Atlantic exchange return to growth next year after losses in its three main business lines forced quarterly income down a fifth. Shares advanced 2 percent to $25.08.
According to Thomson Reuters data though Friday morning, of the 405 companies in the S&P 500 that have reported results, 67.7 percent have reported earnings above analyst expectations. Over the past four quarters, 68 percent of companies beat estimates.
NEW YORK (Reuters) – (Reporting by Chuck Mikolajczak, editing by Dave Zimmerman)