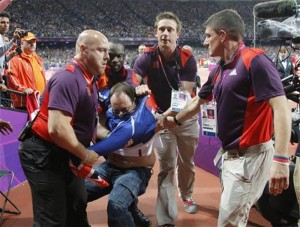 London Olympic organizers have promised zero tolerance towards anyone looking to disrupt an event at the Games after a man was arrested for throwing a bottle onto the track before the start of the men's 100 meters final.
The man lobbed the plastic bottle at Usain Bolt and the seven other competitors just before the start of Sunday's race, London's Metropolitan Police said.
"Throwing a bottle onto the field of play is unacceptable, and it's not just unacceptable at an Olympic Games, it's unacceptable at any sports venue," London organizing committee chairman Seb Coe told reporters on Monday.
"The guy was removed and anybody that does that in future will be removed, so there is a zero tolerance to anything like that."
A police spokesman said a man had been heard shouting abuse and was then seen throwing a bottle, which landed behind the sprinters just after the starter told the runners to "set".
The spectator, arrested on suspicion of causing a public nuisance, was removed from the stadium and taken to a police station in east London.
The spokesman said no one was injured during the incident, which did not disrupt the race – the highlight of the athletics programme at the Games – won by Jamaican Usain Bolt in the second fastest time on record.
All but one of the sprinters broke 10 seconds.
Edith Bosch, a bronze medal winner in judo at the Games, told Dutch television she was standing behind the man when he shouted insults at Bolt and hurled the bottle towards him.
The Dutch athlete said she had slapped him around the head before he was taken away by police.
"I am not suggesting vigilantism but it was actually poetic justice that they did happen to be sitting next to a judo player," Coe added.
Bolt, who retained his sprint title in an Olympic record time of 9.63 seconds, said he was unaware of the incident.
"I just heard about it, I didn't actually see it," he told a news conference, laughing. "I don't promote violence so I'm sorry to hear that."
LONDON (Reuters) – (Reporting by Nick Mulvenney, Avril Ormsby, Stephen Mangan and Theo Ruiznaar, editing by Ed Osmond and Matt Falloon)