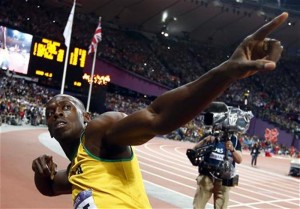 Michael Phelps and Usain Bolt will be forever linked by their mind-blowing performances at the Beijing and London Olympics, and the record-breaking swimmer and sprinter now belong to an elite mutual admiration society.
Bolt watched Phelps end his storied career by winning his 18th gold and was in awe of the American's unparalleled stockpile of medals.
"Michael Phelps, his gold medals. That's a lot of gold medals," Bolt said.
When Bolt took his turn in the spotlight, successfully defending his 100 meters title with a sizzling run of 9.63 seconds, Phelps was glued to the television, captivated by the Jamaican's power and speed.
"He's amazing. He's the fastest man in the world, literally," Phelps told reporters on Monday.
"The shorter races are always fun to watch. Like the 50 and the 100 freestyle in swimming are always fun to watch."
Phelps, who retired after his last race on Saturday, is an avid watcher of all sports but said he particularly loved watching Bolt.
"Being able to watch those guys get up and go 10 seconds or nine seconds, under 10 seconds in 100 meters is pretty impressive.
"And watching Usain do it was fun. With a last name like Bolt, it makes it even better. It's like the perfect last name."
LONDON (Reuters) – (Reporting by Julian Linden; Editing by Peter Rutherford)