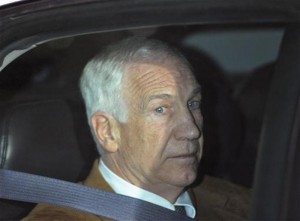 The Postal Inspection Service is investigating whether former Penn State assistant coach Jerry Sandusky shared child pornography with other people, CBS News reported on Friday.
Sandusky was convicted in June of sexually abusing 10 boys over 15 years in a scandal that has rocked Pennsylvania State University, and he remains in jail awaiting sentencing.
Investigators are also seeking to determine if Sandusky sent "seductive letters" across state lines for sexual reasons, CBS News reported.
The federal probe began at the start of this year and involves the U.S. Attorney's Office of the Middle District of Pennsylvania, as well as U.S. Postal inspectors, according to the network.
Joe Amendola, an attorney for Sandusky, disputed the allegations. "We believe they are unfounded and ridiculous," he said in a statement.
"Jerry continues to maintain his innocence."
A representative of the U.S. Attorney's office could not be reached for comment. Margaret Williams, a spokeswoman for U.S. Postal inspectors, declined to comment on the report.
(Reuters) – (Reporting By Alex Dobuzinskis; editing by Todd Eastham)