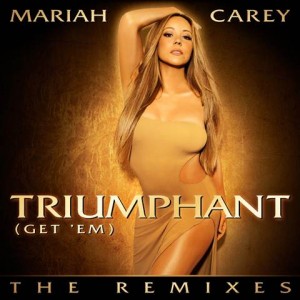 Mariah Carey announces the release of her first new single in more than two years, as "Triumphant (Get 'Em)"featuring [fellow Island Def Jam artist] Rick Ross and Meek Mill with remixes by Vintage Throwback, Pulse, Danny Verde, Laidback Luke and The New Iberican League.
As tweeted from @MariahCarey: "I wrote TRIUMPHANT when I was going through a difficult time & it helped me get through it. When u hear it, pay attention 2 the lyrics #WIN."  "Triumphant (Get 'Em)" is the first advance single from five-time Grammy Award®-winner Mariah's 14th studio album, whose release will be announced in the months ahead.
Mariah, who boasts an unparalleled music catalog with #1 hits in multiple formats on the Billboard charts, will follow the original version of "Triumphant" with a set of exclusive, re-sung dance remixes produced by some of the hottest names in the dance world. Mariah, who continues a long-time tradition of re-inventing her songs in the format, said: "I've always had so much fun re-singing my songs for the club/dance mixes. It gives me the freedom to sing as powerfully as I want and to rewrite the songs specifically for the genre." Mariah has 15 #1 hits on Billboard's Dance Music/Club Play chart, including "Dreamlover," "Fantasy" and "Obsessed."

Her upcoming new album follows up Mariah's worldwide multi-million-selling Memoirs Of An Imperfect Angel (released September 2009), her multi-platinum E=MC² (2008), and worldwide 10 million selling The Emancipation Of Mimi (2005).
The Emancipation Of Mimi generated three Grammy awards (including Best Contemporary R&B Album), two #1 singles, and countless more honors during its 18-month chart stay.  Soundscan's biggest-selling album of 2005, Mimi featured "We Belong Together" (Grammy winner for Best Female R&B Vocal and Best R&B Song) and "Don't Forget About Us," Mariah's 16th and 17th  #1 career singles respectively.  They tied one of the most enduring chart records in Billboard Hot 100 history, Elvis Presley's 17 #1's.
Three years later, Mariah surpassed Elvis when "Touch My Body" (from E=MC²) became her 18th #1 Hot 100 hit.  "Touch My Body" spent two weeks at the top, Mariah's 78th and 79th cumulative career weeks at #1, which tied Elvis' long-standing all-time high of 79 weeks at #1, as calculated byBillboard.  Mariah is now positioned as the only active recording artist in the 50 years of the Hot 100 (which began in 1958) with the potential to surpass the Beatles' all-time high of 20 #1 hits.  The success of E=MC² brought total sales of Mariah's albums, singles and videos to more than 200 million worldwide, distancing her even further from the pack as the top-selling female recording artist in history.
With a distinct five-octave vocal range, prolific songwriting and producing talent, Mariah has defined the modern pop performance.  As a singer/songwriter/producer, she has been honored with five Grammy Awards®, nine American Music Awards, Billboard's Artist of the Decade Award, the World Music Award for World's Best Selling Female Artist of the Millennium, and BMI's Icon Award, to name a few.
She has two consecutive and unparalleled Billboard Song of the Decade titles: "One Sweet Day"(with Boyz II Men, 1995); and "We Belong Together" (2005), further marking her massive presence on the charts since her 1990 song debut "Vision of Love."  Mariah's original holiday classic, "All I Want For Christmas is You," redefined its place in pop culture as one of the greatest holiday hits of all time when it reached #1 on the Billboard charts in 2011, 17 years after its debut.  Mariah's influential and stellar contribution to music spans multiple genres and is showcased through her multifaceted hit catalog and a long list of diverse collaborations.
Mariah's ongoing impact transcends the music industry and has left an indelible imprint upon the world at large.  In 2009, she made a substantial mark in film with her critically acclaimed role as a social worker in Precious, based on the novel Push by Sapphire.  A Congressional Award recipient, Mariah has generously donated time and energy to a range of domestic and international philanthropic causes near to her heart, including the Fresh Air Fund/Camp Mariah (a retreat where inner-city children explore career development), Save the Music Foundation, and Make-a-Wish Foundation, among several others.