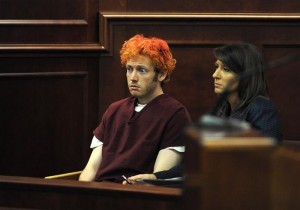 Accused Colorado gunman James Holmes made threats as his academic career deteriorated and he accumulated an arsenal before a shooting rampage that killed 12 people at a suburban Denver movie theater last month, a prosecutor said on Thursday.
Holmes was "making threats and those threats were reported to police," prosecutor Karen Pearson said during a hearing on whether prosecutors can have access to his university records. Pearson did not elaborate on the nature of the threats.
Holmes, a former neuroscience graduate student, is accused of opening fire on July 20 at a midnight screening of the new Batman movie "The Dark Knight Rises" in Aurora, Colorado, killing 12 and wounding 58.
Pearson portrayed Holmes, 24, as a young man whose record at the University of Colorado Anschutz Medical Campus was in tatters, saying he had failed oral board exams in early June and one of his professors had suggested he may not have been a good fit for the competitive Ph.D. program.
Subsequently, Holmes started making threats that were reported to police and he was barred from University of Colorado facilities before the shooting, she said.
University spokeswoman Jacque Montgomery said Holmes was not banned from the campus but that withdrawing students typically have their access badges deactivated, effectively denying them access to facilities such as laboratories.
"The prosecution was very aggressive today. They are obviously building a case based on revenge," said Craig Silverman, a former Denver prosecutor now in private practice who has been following the case.
"Motive is not required but jurors will want to look for a reason why this guy did it, which will go against an insanity defense."
The issue of a possible motive surfaced as Pearson argued that the school records, which could include transcripts and class schedules but not medical records, are key to understanding Holmes' state of mind leading up to the rampage.
"All of this is relevant to his decision to withdraw from school, booby-trap his apartment and buy ammunition," she said.
FISHING EXPEDITION
Holmes' attorney Daniel King said during a previous court hearing that his client suffers from an unspecified mental illness and had tried to get help. Local media have reported he saw at least three mental health professionals before the shooting.
Holmes – charged with 24 counts of first degree murder and 116 counts of attempted murder – appeared in court for the hearing clad in a red jumpsuit with his dyed red hair fading to orange and pink. He seemed alert but calm and had the beginnings of a beard.
King said he opposed giving prosecutors access to Holmes' university records, arguing in Arapahoe District Court that the request was "massively overbroad."
"They are fishing around to establish a motive. … The motive is irrelevant," he said. "Nothing in those documents will reveal any intent."
Judge William Sylvester did not immediately rule on the dispute.
Court papers filed by defense attorneys in July said Holmes had been a patient of the medical director for student mental health services on campus, Dr. Lynne Fenton, before he filed paperwork to drop out of the neuroscience graduate program.
As in many states, mental healthcare providers in Colorado must warn authorities of potential violent behavior only when a patient has communicated a serious threat of imminent physical violence against a specific target.
Previous media reports have said Fenton reported her concerns about Holmes to a campus threat assessment team and a campus police officer.
Holmes, who authorities said referred to himself as the "Joker" in reference to Batman's comic-book nemesis after his arrest, is being held without bond in solitary confinement at the Arapahoe County jail. Prosecutors have not yet decided whether they will seek the death penalty.
By Keith Coffman
CENTENNIAL, Colo. (Reuters) – (Writing by Cynthia Johnston; editing by Steve Gorman, Dan Whitcomb and Mohammad Zargham)