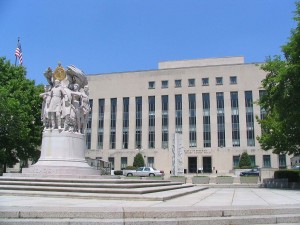 A federal court on Thursday barred Texas from implementing a controversial law requiring voters to show photographic identification before casting ballots, saying the measure would likely curtail the ability of minorities to vote.
Evidence showed the law's impact would "fall most heavily on the poor and that a disproportionately high percentage of African-Americans and Hispanics in Texas live in poverty," Circuit Judge David Tatel wrote for a three-judge panel of the U.S. District Court in Washington.
Texas Attorney General Greg Abbott, a Republican, said he will appeal the decision directly to the U.S. Supreme Court.
"Today's decision is wrong on the law and improperly prevents Texas from implementing the same type of ballot integrity safeguards that are employed by Georgia and Indiana, and were upheld by the Supreme Court," he said.
The identification law was adopted in 2011 by the Republican-dominated Texas legislature. It requires voters to present one of six forms of photo ID before casting their ballots.
Supporters said the requirement would discourage fraud at the polls, but opponents called it a guise to suppress minority voters more likely to support Democratic candidates.
Elise Boddie, director of litigation for the NAACP, said: "The whole point of our democracy is to make sure that voters have the opportunity to vote, and that's what today's ruling does."
In March, the Obama Administration blocked the requirement, invoking the Voting Rights Act of 1965, which was designed to protect the voting rights of minorities, primarily in the South.
Since the 2010 election, in which Republicans gained control of many state and local governments, 11 U.S. states have passed voter ID laws, among other election rule changes.
Earlier this week, a different panel of the same court rejected Texas' redistricting maps, saying they discriminated against blacks and Hispanics. Texas will as a result likely use interim maps drawn up by a San Antonio federal court for the November 6 elections.
The case is Texas v. Holder, U.S. District Court, District of Columbia, No. 12-cr-00128.
(Reuters) – (Reporting by Nate Raymond and Jonathan Stempel in New York; Drew Singer in Washington, D.C.; and Jim Forsyth in San Antonio; Editing by Todd Eastham)