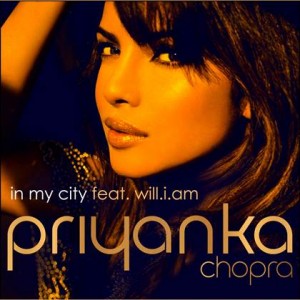 Indian film industry [Bollywood] superstar and 2101 Records/Desi Hits!/ Interscope Records recording artist Priyanka Chopra releases the debut US single "In My City". With continual commercial success and mass popularity, Priyanka has established herself as more than a pretty face and as one of the most talented actresses in the industry. While she has conquered the acting world, Priyanka recently began pursuing another passion – music.
In early 2012 Priyanka linked up with famed producer RedOne and got to work. Their collaborative effort is the single "In My City" featuring will.i.am and produced by RedOne and Rush for RedOne Productions and Brian Kennedy. Her music debut will add another dimension to this actor, humanitarian, green crusader and brand ambassador.  Priyanka, one of the most recognized talents in Indian cinema, is a recipient of the prestigious Indian National Film Awards amongst many others. Her foray into the entertainment industry began at the age of 17 with the Miss India and Miss World titles. Priyanka's mother entered her in to the contest without her knowledge and changed the course of her life.  She is acknowledged as one of the most versatile actors with many path-breaking performances.  Priyanka is also actively involved in her role as the National Ambassador for UNICEF in India and the Green Ambassador of a nationwide environment awareness campaign in India.
"Working with Priyanka was very special, she brings so much passion and commitment to her music and to everything she does," said RedOne. " Priyanka is a true star and is destined for global success on many different platforms. I am so excited to be part of her musical journey and I am very proud of the album that we have recorded together. Let's go."
"In My City', is available across all digital platforms now. This is the first single from Priyanka's much-anticipated debut album, which is expected to be released  in 2013.
"This is the culmination of a 2-year journey that has been the toughest yet most enriching experience of my life while also marking the beginning of an exciting new chapter", said Priyanka Chopra about her music debut.  "I walked into this as a novice, with no training or experience of making music, and today, as I share my music with everyone. With the help and support of my family, an incredible team and the most talented music producers and songwriters, I am proud to present my first single 'In My City' to the US and subsequently the world."
Being an international superstar, a versatile actor, a talented singer, and a philanthropist, the rest of the world will soon be able to see, and hear, what billions globally have been so excited about for years.
www.priyankachopramusic.com