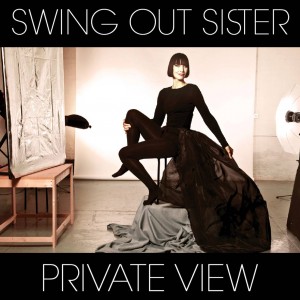 There are few artists in the pop music landscape who have managed to stand the test of time while remaining completely unique and relevant.  Swing Out Sister has captivated audiences for over two decades with their potent elixir of fresh cinematic sound-scapes, sophisticated, intimate and jazz/Latin tinged pop and surprise-filled arrangements that pay homage to the great soul tradition. "Sheer stubbornness – and the joy of creating music has kept us going," shares Corinne Drewery. "Sometimes you have to step back and look at things from another perspective, but there is nothing like the thrill of creating something that can touch people. Music that moved us gave us the inspiration to write songs in the first place- hopefully we can inspire others to do the same."  The dynamic duo of stunning singer/songwriter Corinne Drewery and keyboardist/composer Andy Connell celebrate their 25th anniversary, popping the cork on new wine from vintage bottles via an intimate new collection of "versions" they've entitled Private View. This deluxe collection is a special long-box collector's item with a CD, DVD and extensive booklet with previously unseen photos, an essay and commentary by Corinne Drewery. The CD features totally re-imagined versions of classics and lesser known gems, while the DVD features a live concert shot at Billboard Live in Tokyo and rare behind the scenes footage that give an up close and personal look at the creative genius of Swing Out Sister. This is Swing Out Sister's first live DVD.  Highlights include a stellar recreation of their blockbuster hit "Breakout," which brilliantly segues into the 1970 Jackson 5 chart-topping classic "I'll Be There," the first ever official US release of "Who's Been Sleeping," and an enchanting performance of their hit "Stone Soul Picnic," which is not featured on the CD. Corinne shares, "Japan is like nowhere else. The language makes it even more magical and mysterious. Audiences don't miss a trick- they pick up on all of our references, and remember all the details when you do a show. It is probably for this reason, and to keep us on our toes, that we rearrange our songs for each tour."
Swing Out Sister – Stoned Soul Picnic (LIVE)
Now with 20 CDs of studio, live, remixes and compilations, S.O.S. has tirelessly amassed an impressive catalog of originals and covers. Private View finds them picking ten songs for fresh go rounds with studio chatter and intro counts to give fans a peek at their working process. Corinne explains, "We don't like doing songs the same way over and over again so we change them – even if for only one gig. These arrangements were originally created for an east coast tour of America. We were in the last days of rehearsal when a volcano in Iceland erupted, covering Europe in a gigantic ash cloud. We were grounded. Rather than have all that work go to waste, we recorded the arrangements – otherwise no one would have heard them. We'll be onto something completely different in a month!"
The album-opener "Incomplete Without You" gives a song overlooked in its 1991 debut on Get In Touch With Yourself a punchy second shot at getting noticed. The Delfonics' Philly Soul classic "La-La Means I Love You" is refashioned by replaying elements from Donny Hathaway's arrangement of Marvin Gaye's "What's Going On" plus a tag sprinkled with the blue-eyed soul Bread pudding of "Make It With You." The eternal sunshine of Chi-town songstress Barbara Acklin's "Am I The Same Girl" takes a surprise 11th hour detour into Donald Byrd's Mizell Brothers classic "Places and Spaces." The playfully named Taj Calder mix of "Now You're Not Here" with synth vibraphone upfront offers breezy homage to the master Cal Tjader. The evocative interlude "It May Not Be Enough" feels like Pat Metheny meets Jimmy Webb in the 5th Dimension's Magic Garden. And that very first hit "Breakout" – Corinne's coming of age song – gets a slower treatment in a Fabulous Party Mix revealing deeper contours. "Mama Didn't Raise No Fool" is one of my favorites," Corinne states. "I overheard an American newscaster say something like, 'they're operating from a mama didn't raise no fool policy!' I'd never heard that phrase before. I liked the sound of it so I incorporated it into a song that ended up being about my mama."
Private View marks 25 years since Swing Out Sister's first album, It's Better To Travel.  Corinne recalls, "We did nothing but travel for the first three years. That album was heard all over the world. Friends coming home from trips would tell us they'd heard our record abroad – Japan, Brazil, India, Hawaii." She met Andy when he rescued her from an audition that was going badly, taking a liking to her voice. However, their tastes in music didn't mesh right away. She liked pop and Motown. He was into jazz, particularly Latin. "Our tastes met at the intersection of John Barry & Shirley Bassey and Burt Bacharach & Dionne Warwick."  How'd they get to make such a lush record their first time out? "We started with a tiny budget for a two-single deal at Phonogram basically as a way for an A&R guy to learn how to make records," shares Andy.  "When the second single 'Breakout' went Top 5 U.K., they let us do 'Surrender' which went to #7. With two hit singles, we got an album deal with lots of money to make it. Since we already had hits they didn't care what kind of record we made, so we went 'orchestrally crazy' – too great an opportunity to pass up."
Swing Out Sister, which reluctantly took their name from a Universal Pictures big band musical from 1945, has been around long enough to have their music done by others. Hip Hop band The Roots (of "The Jimmy Fallon Show" fame) replayed a section of "Breakout" in their 2002 song "Quills" (a concert favorite). And in 2012 Earth Wind & Fire keyboard wizard Larry Dunn and his singer wife Luisa purposefully recorded "Twilight World" on their CD, N 2 The Journey. It's been quite a full circle journey for Corinne & Andy, too and thankfully shows no signs of stopping. Theirs is the music of blissful daydreams and spontaneous adventures, navel-gazing ruminations and freewheeling romances…with the stone soul spirit of Laura Nyro wafting through it all.
Corinne concludes, "We have some very loyal fans around the world, I think they know that whatever they hear from us comes from the heart. Unless we are moved by the music we make, we won't put it out for anyone else to hear. Facebook and the internet have brought us closer to those who listen to our music. They keep in touch with each other online from around the world and meet up at our shows."
Check out their website at http://www.swingoutsister.com/.