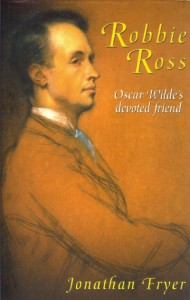 Leave it to a Bible thumper to remind us of an unjustly forgotten gay pioneer. Pastor Kevin Swanson is Director of Generations with Vision, a ministry whose goal is to strengthen homeschool families like his own. Swanson also hosts a daily radio program, "Generations Radio," which his web site (generationswithvision.com) describes as "the world's largest homeschooling and Biblical worldview program". In a recent program Swanson denounced a bill that established civil unions for same-sex couples in his home State of Colorado. While doing so, the Pastor gave his own interpretation of gay history which, if anything, shows us how flawed the homeschool movement really is. Lamenting that "this is not the first time society's had to deal with this kind of issue," Swanson goes on to complain that homosexuality "is probably more widespread than it has ever been in the history of the world."
So far so good. But then Swanson's rant gets weird. According to the radio preacher, "about 100 years ago, you had three [!] homosexuals in the world as far as anybody really knew. There was a Canadian named Robert Ross, an Englishman [actually an Irishman] named Oscar Wilde, [and] an American named Walt Whitman. They led the charge in the early 1900's [Whitman died in 1892 and Wilde died in 1900] and wound up in and out of the prison system and in court and so forth for a period of time. And again, there was only about three that anybody knew of and it was hardly anything that was mentioned among the established world at that time, that is in Europe, Canada and America. But you did have those three men, as far as history bears out. Robert Ross, Oscar Wilde and Walt Whitman were well-known for some level of homosexual activity, although they could not call themselves homosexuals at that time."
Swanson goes on to complain that "the homosexual lifestyle is [now] everywhere and we have a problem that's probably about 10,000 times if not 100,000 times worse than it was 100 years ago," which, by my reckoning, means that we now have 300,000 gays for Swanson to deal with. Swanson is "not sure the world has ever gone to homosexual marriage" before, though he thinks that "Nero tried it." Though Swanson's radio rant is ridiculous even by Bible thumping standards, it reminds us of an early pioneer who is remembered, if at all, for his relationship with others. Unlike Walt Whitman and Oscar Wilde, who everyone knows, very few are acquainted with Robert Baldwin Ross (1869-1918), affectionately-known as "Robbie" Ross. Still, unlike Whitman or Wilde, Ross was openly gay for most of his life, which caused him many problems.
Ross was born in Toronto to a prominent family that helped to lead Canada for much of the 19th century. In 1888 Ross moved to England, where he studied at King's College in Cambridge. As an out gay man, Ross was the victim of bullying, which led him to drop out of Cambridge and move to London where he became a journalist. There he met Wilde, who was then heterosexually married. The Canadian became the Irishman's first male lover, and later his best friend, proving once again that a common sexual orientation often transcends boundaries. Among other services, Ross introduced his friend to London's gay underground. But sexual acts between men were illegal in England at the time; and being gay was often dangerous. Ross himself got in trouble when he had a relationship with a 16-year old boy, who went on to tell his parents. Fortunately for Ross, the boy's parents were persuaded not to go to the police.
In 1895 Wilde made the fatal mistake of suing the Marquess of Queensberry, who called Wilde a "somdomite" for his relationship with the Marquess's
son, Lord Alfred Douglas. Wilde's suit exposed his gay activities, and he was sentenced to jail for "gross indecency." Though Ross left England for his own safety, he quickly returned. Unlike other so-called friends (including Douglas), Ross was loyal to Wilde in his hour of need, giving his friend both financial and emotional support. Ross was with Wilde when he died in 1900, and became his literary executor. In 1908 Ross produced the definite edition of Wilde's works. Ross also commissioned sculptor Jacob Epstein to produce a tomb for Wilde at the Pére Lachaise Cemetery in Paris, the last resting place for many celebrities from Honoré de Balzac to Gertrude Stein. Ross also befriended Wilde's sons, Vyvyan and Cyril.
Ross's open gayness continued to give him trouble. Because of his friendship and loyalty to Wilde, Ross won the enmity of Wilde's jealous lover Douglas. Lord Alfred, who after Wilde's death repudiated his youthful homosexuality, tried to have Ross arrested and tried for homosexual conduct. In 1918, the last year of the First World War, Noel Pemberton Billing, a right-wing member of Parliament, published "The Cult of the Clitoris," in which he accused Ross and his circle of friends of leading a cadre of 47,000 homosexuals who betrayed Great Britain to the Germans. Though not much came out of this stupid allegation, it proved embarrassing for Ross and his friends.
Ross died suddenly in 1918, just before the end of "the Great War." In 1950, on the 50th anniversary of Wilde's death, Ross's ashes were added to Wilde's tomb in Pére Lachaise Cemetery in Paris, where they are ignored by the throngs who visit the great writer's tomb. For more information about Robbie Ross, I recommend his biography by Jonathan Fryer. Read it and thank Rev. Swanson, for inadvertently restoring the memory of a great gay hero.
by Jesse Monteagudo