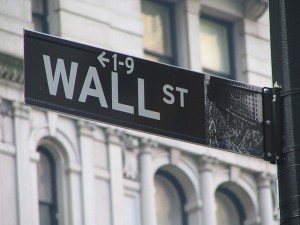 Today, Out on the Street, the first lesbian, gay, bisexual and transgender (LGBT) leadership organization created for Wall Street by Wall Street, is holding its third annual U.S. Out on the StreetLeadership Summit. This daylong conference is hosted by Goldman Sachs at the company's global headquarters in downtown Manhattan. Lloyd Blankfein, the firm's Chairman and CEO, will be speaking, along with five other CEOs at sessions throughout the day. This year, the Summit will focus on emerging leaders and will examine the prospects for continuing action and progress on LGBT equality.
"LGBT equality is not only a civil rights issue it is also a business issue. To be successful, we must attract, retain and promote from the broadest pool of talent available," said Mr. Blankfein.  "We are proud to partner with Out on the Street and its member companies to promote LGBT equality."
Todd Sears, Founder, Out on the Street, commented, "Out on the Street member firms are maximizing 'return on equality.' In addition to driving critical social and legal progress for the LGBT community, this focus produces positive client impact, increases employee retention and engagement, and ultimately improves bottom-line results."
The Summit will explore many facets of "return on equality," such as the role that businesses can play by their actions internally and externally, and provide an in-depth look at topics relevant to LGBT individuals. Session topics include:
How the interplay of sexual orientation and gender affects career progression;
How up-and-coming LGBT leaders can further transform corporate cultures;
The business opportunities presented by supporting LGBT equality;
The potential impact of the U.S. Supreme Court's upcoming decisions on the Defense of Marriage Act (DOMA) and Proposition 8; and
How unequal immigration policies negatively affect LGBT employees their families and companies.
"A workplace that is fair and equal for all employees is essential for any global organization that wants to compete and succeed.  I am proud that the members of Out on the Street continue to break new ground in the advancement of LGBT rights in the workplace and beyond," said James P. Gorman, Chairman and CEO of Morgan Stanley, a founding Out on the Street member.
Irene Dorner, President and CEO, HSBC USA, remarked, "A successful corporate culture is one which puts a premium on a full range of individual contributions, and where all employees feel they can confidently bring their whole selves to work and be rewarded for it. This can be a particularly poignant issue for LGBT employees – many of whom may still feel their personal lives are undervalued at the office. A working environment that's conducive to employees' personal and professional lives is a business and ethical imperative, and we must continue our commitment and achieve genuine progress."
In addition to Mr. Blankfein, speakers include:
James S. Turley, Global Chairman and Chief Executive Officer, Ernst & Young
Irene Dorner, President and CEO, HSBC USA
John Veihmeyer, Chairman and CEO KPMG LLP (U.S.)
Roberta Kaplan, Partner, Litigation, Paul, Weiss, Rifkind, Wharton & Garrison LLP
Theodore "Ted" Olson, Partner, Gibson, Dunn & Crutcher
Bob McKillip, Co-Head, Markets & International Banking, Americas and Head of International Banking, Americas, RBS
Chad Griffin, President, Human Rights Campaign
Ken Mehlman, Member and Head of Global Public Affairs, KKR
Lara Warner, Managing Director, Chief Operating Officer, Investment Banking, Credit Suisse
Martin Chavez, Managing Director, Global Co-COO, Equities Franchise, Goldman Sachs
Christopher Jackson, Managing Director, COO, Fixed Income Division, Asia Pacific, Morgan Stanley
Julia Hoggett, Managing Director, Head of FIG Flow Financing, Covered Bonds & Short Term Fixed Income Origination, EMEA, Bank of America Merrill Lynch
Erika Karp, Managing Director, Head of Global Sector Research, UBS
Alisa Seminara, Director & Associate General Counsel, U.S. Immigration Law, Citi
Tom Goldstein, Founding Partner, Goldstein & Russell P.C. and Publisher, SCOTUSblog.com
Out on the Street member companies recognize the power of working collectively as an industry. Most recently, 14 financial services companies signed the amicus brief this year setting out for the Supreme Court the costs incurred as a result of DOMA. The global nature of LGBT issues and the global presence of Out on the Street member companies mean that the actions these companies take together have a positive effect worldwide.
Jim Turley, Global Chairman and Chief Executive Officer, Ernst & Young, commented, "Diversity and inclusiveness have helped us to build and strengthen our leading people culture at Ernst & Young over the years, and LGBT professionals have played a critical role in making progress in our organization and beyond. Yet what we can do together, through organizations like Out on the Street, allows us to have a larger impact than if we all acted alone."
ABOUT OUT ON THE STREET:
Out on the Street is the first summit designed to convene senior lesbian, gay, bisexual and transgender (LGBT) and straight ally leaders of the international financial services industry to focus on business opportunities and leadership strategies for and within the LGBT community. Founded in 2011 by Todd Sears, diversity leader and banker, Out on the Street is comprised of 15 member organizations at the forefront of the financial services industry: Bank of America Merrill Lynch, Barclays, Citi, Credit Suisse, Deutsche Bank, Ernst & Young, Goldman Sachs, HSBC, KKR, KPMG, Morgan Stanley, Moody's, Nomura, RBS and UBS.
Out on the Street Summits for 2013 will take place in New York, London and Hong Kong.
For more information, please visit http://outonthestreet.org/
SOURCE Out on the Street